Could the future of the Republican party be decided in Tennessee?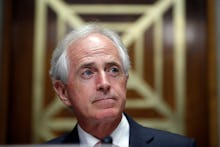 Welcome to Mic's daily read on Donald Trump's America. Want to receive this as a daily email in your inbox? Subscribe here.
Every day, we bring you a different dispatch on Trump's America. Today's focus: Showdown in Tennessee.
Thursday's Dispatch: A battle is brewing in Tennessee over the future of the GOP
The Republicans in Tennessee eyeing a run for the Senate represent the factions battling for the soul of the national party.
The sides in the electoral battle aren't yet clear, with only one candidate announced in a bid to replace Sen. Bob Corker (R-Tenn.). (And no, Peyton Manning isn't running.) Corker announced Tuesday afternoon he would not run for re-election in 2018. But the people who shaped the Alabama primary — where Roy Moore rocked the GOP establishment with a win over Republican Sen. Luther Strange — see the potential for another conservative pick-up in Tennessee.
Rep. Marsha Blackburn (R-Tenn.) is seen as a top contender for the seat. She has not yet announced her candidacy, though she said Tuesday she's considering a run. Eight terms in Congress may make you think Blackburn is establishment. But she's connected to grassroots groups that like her fiscally conservative record.
"I would expect her to be more of a rebel [in Washington than Corker]," Ben Cunningham, founder and president of Nashville's tea party chapter, said by phone..
But there's no guarantee Blackburn would take the mantle of "rebel." The only declared candidate in the primary is Andy Ogles, who supported efforts in Tennessee to not expand Medicaid and kill a gas tax. The former head of the Koch Brothers-backed Americans for Prosperity Tennessee chapter, Ogles recently hired a political advertising firm that helped elect President Donald Trump.
A Koch-aligned Tennessee political donor said he would raise $4 million to back Ogles' candidacy over the next year.
Another wild card in the race is whether the state's Republican governor, Bill Haslam, will run for the seat. Haslam's statement on Corker's retirement only thanked the senator for his service. A spokeswoman for the governor did not respond to Mic when asked if Haslam, a billionaire, is considering a bid; she only directed Mic to his Tuesday statement.
At least two other Tennessee Republicans are also making noise about joining the race.
The only poll in Alabama pitting Moore against the Democratic opponent, Doug Jones, shows the Republican nominee running with a 22-point lead. That gap may close, but it's a hard hill to climb for Democrats in Washington, who still say they are monitoring whether to sink resources into either Alabama or Tennessee.
Stephen French, a former head of the Alabama Republican Party and state senator who has known Moore and Strange for decades, said as more Mitch McConnell-backed TV ads blasted Moore, more voters flocked to him. Moore beat Strange by 9 percentage points with 14% voter turnout statewide.
"This is a Donald Trump-like reaction by the electorate," French said of Moore's victory and what it could mean in other conservative states. "There's a whole lot of traction that can be realized in these kinds of situations."
A state north, in Tennessee, kingmakers like Steve Bannon, whose candidate won in Alabama, and McConnell (R-Ky.), whose lost, will have to decide to whom they should lend their support.
The potential for a split among Republicans is obvious if a sitting GOP governor, popular conservative congresswoman and Koch-backed grassroots organizer all vie for an open Senate seat. But if the Alabama election is any indication, the primary electorate in a state that voted for Trump by double-digits will want a conservative Senate nominee in 2018.
"The sharpness of the GOP primary electorate's pitchforks has not dulled in the Time of Trump," Kyle Kondik, managing editor of Sabato's Crystal Ball at the University of Virginia Center for Politics, said. "The next Republican Congress in both the House and the Senate is likely to be even more right-leaning and less open to compromise than the members of this one."
Per tradition, the state Republican Party in Tennessee does not publicly support any primary candidate. But Candice Dawkins, the party's communications director, pointed out two of the past five Republican leaders in the Senate have been from Tennessee. "We expect that to continue," she said.
A win by someone like Haslam could keep that tradition alive. Nominating Blackburn would be a different story — unless the alliance between Bannon and Moore sees many other establishment Republicans topple nationwide.
Today's question: Who would you rather see in Washington: Conservatives who act as they promise to during campaigns, or Republicans who will moderate their approach once in Washington? Email us at trumpsamerica@mic.com.
Thursday in Trump's America:
Trump and top Republicans unveiled their tax reform plan on Wednesday. Speaking in Indianapolis, Trump said the plan wouldn't benefit him. But wealthy families, like the Trumps, stand to make financial gains under the proposal.
Despite the unified GOP push, some Republicans are expecting a tough process to craft the legislation. Moderate Democrats are publicly withholding judgment about Trump's plan, especially those from conservative states who will run for re-election in 2018.
The proposal looks likely to benefit wealthier and large corporations. But because only a nine-page outline was released, many details still need to be hammered out in Congress. Mic dug into how the plan would impact the middle class.
Only 45,000 refugees will be allowed into the United States next year. That's less than half the number former President Barack Obama admitted in 2016 and the lowest in three decades.
Trump tweeted that Facebook opposed him. So Mark Zuckerberg responded — and said his platform is inclusive.
Trump surprised Wednesday morning when he said the GOP is close to the necessary votes to pass an Affordable Care Act repeal bill in the Senate. But as the day wore on, it became clear the math still was not there.
Aiming to become relevant in national politics again, California moved its primary election up to March.
Trump waived the Jones Act on Thursday morning, loosening shipping restrictions on what can be transported to Puerto Rico. The law dated from 1920. And the mayor of San Juan said his city is experiencing a "humanitarian crisis." The island remains without power and many areas still do not have running water.
The upcoming voting rights battle in Ohio (my former home!) could decide the 2018 midterms. It's a showdown you need to know about.
Still on Alabama: Politico reported GOP senators say they've not heard of or read anything said by Roy Moore. But they still want him elected.
Those tweets Trump deleted about supporting Luther Strange? Turns out, that may have broken federal law. And the White House said Trump does block people on Twitter when they criticize him.
Today's MicBite:
Here, we offer a compendium of the alarming statements Roy Moore has made over the years. Tap or click below to watch the video.