A police officer in Puerto Rico describes the state of the island: "It's devastation."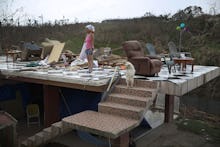 Fermin Gonzalez, 54, has been a police officer in Puerto Rico for more than 20 years, but he's never seen anything like the devastation caused by Hurricane Maria, which made landfall on the island a little over a week ago.
"I've been in five other hurricanes but nothing like this," Gonzalez said Thursday by phone. "Nothing like this."
The crisis in Puerto Rico touches everyone on the island: Nearly half of the 3.4 million residents of Puerto Rico were without water Wednesday, NBC News reported, and other reports have suggested that electricity won't be fully restored to all residents for months.
Gonzalez, who works in Bayamón, a municipality just outside of the capital city of San Juan, described endless lines of people waiting for fuel or at ATMs.
"The lines here — for gas, or to go to the bank — the lines are crazy," he said. At one point, according to Gonzalez, there were some 500 people in line at one bank. "You go to any gas station and the lines have no end," said Gonzalez, who added that some people have been waiting in lines for up to 14 hours, just trying to get basic necessities.
Gonzalez has been working 12-hour shifts since Maria hit, whether it's ferrying people in need to Red Cross or Salvation Army shelters or helping elderly people with no family nearby find somewhere safe to stay. Right now, he said, the police are "like a taxi service."
Some people, he said, have been showing up at the police department just to be able to use some electricity. "We can't do much," Gonzalez said, but they've been doing what they can to help people who show up at the station.
He's also been dealing with the panicked rumors that have been spreading rapidly in the absence of reliable communication.
"There's a lot of rumors that we are not gonna have any more gas and we are not gonna have any more food," Gonzalez said. "Some people get hysterical."
Gonzalez himself wasn't spared by Maria — "I lost the ceiling on my home," he said, adding, "but we're alive." He had the chance to move some of his things out of his home before the hurricane hit and while there's still a lot of work left to do to repair his house, he feels comparatively lucky.
"If I compare it with other people that lost lives and other stuff, I'm doing fine," Gonzalez said. His family on the other side of the island had also come through the storm physically unhurt but, when he left Bayamón to check on his mother, he realized the extent of the damage from Hurricane Maria.
"I went to the other side of the island to see my family, and it's the same," Gonzalez said. "It's devastation, the electricity poles on the [ground], trees on the [ground]."
Gonzalez said what Puerto Rico needs most now is medicine and water. He said that people with friends and family on the island should send money to loved ones if they can, but they shouldn't try to come in person — at least not yet.
"If you come to Puerto Rico, you're going to be stuck in a gas station line," he said. "I don't recommend anybody to come right now."