Congress is finally working on bipartisan health care solutions — but the damage may already be done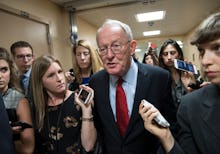 On Thursday Sen. Lamar Alexander (R-Tenn.) the chairman of the Senate Committee on Health, Education, Labor and Pensions, told reporters that his committee could release a bipartisan plan to stabilize the health care market as early as Thursday evening.
Unfortunately, thanks to Republicans' last-ditch effort to repeal the Affordable Care Act, much of the damage is already done.
For months, insurers have been frustrated and scared by the uncertainty that the many repeal efforts have created. One report from September, by the nonpartisan Congressional Budget Office, estimates that premiums in 2018 "will be roughly 15% higher than [they were] in 2017, largely because of short-term market uncertainty" over federal subsidies.
Specifically, insurers have been worried about cost-sharing reduction subsidies, known as CSRs, which Trump has perennially threatened not to fund, in order to force support for an ACA repeal.
Previous bipartisan deals floated by Alexander have included longterm promises to fund CSRs in exchange for some deregulation of the health insurance industry. That plan took a back seat when Sens. Lindsey Graham (R-S.C.) and Bill Cassidy (R-La.) released their now-infamous and ill-fated health care bill.
Now that the Graham-Cassidy bill is dead, Alexander appears to be rushing to try and resurrect his bipartisan deal.
But even if he does it may be too late.
Wednesday was the final day for insurers who wanted to offer insurance on the ACA's individual market in most states to enter the program. States have already begun releasing prices for health care plans on the individual market ahead of November's open enrollment period.
In other words, the higher prices created by the long, drawn-out health care debate are locked in for at least the coming year.
But it's not just the individual market that will suffer because of Republicans' repeal efforts.
Debate over Graham-Cassidy also scuttled negotiations on another bipartisan health care bill, this one to fund the Children's Health Insurance Program.
CHIP, which provides health insurance for 9 million children across the country, is set to run out of funding on Sept. 30 and reports Wednesday suggest that the Senate will be unable to meet that funding deadline because of the Graham-Cassidy debate.
Because CHIP funding is distributed annually in lump-sum payments to states to spend over two years, it's unlikely that this delay will mean CHIP won't have the money to operate in October. But the delay is likely to put undue stress on state governments whose health departments are already dealing with the fallout of the debate over CSR payments.
Whatever solutions Congress comes up with by Saturday may help keep CHIP rolling for a few months and perhaps will prevent insurers from fleeing the individual market mid-year. But if Republicans are serious about stabilizing the insurance market, they may have to consider ending their monthly ritual of attempting to repeal the Affordable Care Act.