What Melania Trump wore her 36th week as first lady — with Prince Harry and beyond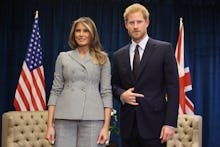 After 36 weeks as first lady, Melania Trump is finally finding her footing in the causes she supports. This week, every one of her appearances corresponded to a different organization or special event.
She attended the Invictus Games, made speeches at charity lunches and sat down in the White House to discuss opioid addiction in the United States.
This is what Trump wore this week:
Saturday, Sept. 23: A Dior suit for beaming with Prince Harry
Saturday was a good day for Trump. She traveled solo to Toronto, met the ever-charming Prince Harry and attended the opening ceremony of the Invictus Games, an Olympic-style event where wounded, ill and injured service members and veterans battle it out at sports like rowing, cycling, basketball and swimming.
Maybe it was Harry's charm that made Trump appear to be absolutely glowing during the event, or maybe it was simply the excitement of being there and not having the pressure to make a speech.
But anywho, for this lovely day Trump chose a checked houndstooth suit by Dior, with chino pants that went wide all the way to her ankles. It was a more formal look for a sporting event, and a throwback with its '40s silhouette.
Wednesday, Sept. 27: A blue Michael Kors repeat for a NYC event
Captured in images posted to her own Twitter account, Trump wore a familiar blue dress as she hosted a lunch for the Nicklaus Children's Health Care Foundation at the World Trade Center in New York.
As identified by Vogue, Trump's robin-egg blue shift dress from Michael Kors is the same one she wore to meet the Panamanian president and first lady back in July. This time, she accessorized with a white coat hung on her shoulders, a fave sartorial move of hers.
Thursday, Sept. 28: A black suit to discuss opioid abuse in the U.S.
For a roundtable discussion on opioid abuse held in the White House, Trump wore a neat black suit with white stitching by a designer we've yet been able to identify.
(In case you didn't know it, identifying what she wears is quite a task.)
She paired that suit with a classic white button-down.
You can see previous recaps of what Melania Trump wore here.