10 Fenty x Puma pieces worthy of investing in to channel your inner Rihanna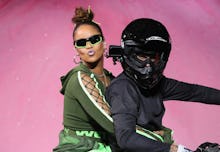 As consumers, Rihanna has a spell on us.
Every piece of Fenty Beauty is enticing. And when it comes to clothes, not only does Rihanna know how to wear them, she knows how to design them, too. Her Fenty x Puma collaborations — and epic fashion shows — perfectly exhibit those skills. At Paris Fashion Week in February, Riri hosted an academia-inspired show that featured models walking on top of long library tables in varsity sweaters and preppy dresses with an edgy athletic-wear twist.
We immediately felt this uncontrollable urge to attend — and graduate with honors from — Rihanna University. So as you can image, with these clothes finally available to purchase from Puma.com, we're amped.
Here are some of our favorite pieces from the collection, which we believe are worth investing in.
This lace-up class choker, $35
You'll need a long neck for sure, but we'll let you figure out how to achieve that.
This Fenty University cropped vintage tee, $60
As a citizen of the world, you are automatically enrolled in Fenty University. Failing isn't an option.
This Fenty University crew neck baby tee, $75
Wear your school spirit even more obviously. Harvard who?
This detention card hoodie, $130
Rebellion never looked so chic.
This V-neck jersey bodysuit, $140
Ivy Park is shook.
This teddy bear backpack, $150
If this nylon (maybe waterproof!) teddy-bear backpack was good enough for Rihanna, it's good enough for us. Just look at that little dude's fuzzy ears.
These black leather creepers, $150
Rihanna's Puma creepers have been iconic for a while, and we're particular fans of these shiny black leather versions, which would go with honestly everything.
We'd wear these to our weddings.
This cute-as-hell jersey dress, $160
This is a dress that honestly screams Rihanna, so of course we want it.
This plaid bra, $200
Rihanna notoriously hates bras, so we feel like if Rihanna likes this bra, then it's worth investing in.
This long knit dress so we can cover our entire body in Rihanna's essence, $360
We like this dress mostly because it would allow you to cover every square inch of your body in Rihanna-approved fabric. We've never wanted anything more.