A Democrat says he'll move to impeach Trump next week. Here's why it's not going to work.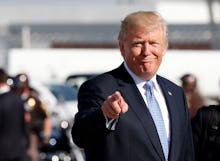 Rep. Al Green (D-Texas) continues to suggest that he will attempt to bring the impeachment of Donald Trump to a House vote next week, saying on the Bill Press Show that the president's attacks on NFL players represented the "straw that broke the camel's back."
"Any member can bring articles of impeachment, and I intend to do so," Green said Thursday.
Earlier in the week, the Texas congressman took to the House floor to call for Trump's impeachment, saying Wednesday that "a president need not commit a crime" to be removed from office.
"I rise today, Mr. Speaker, not as a liberal or conservative," Green said. "I rise today as a proud American ... I rise to announce that on next week, Mr. Speaker, I will bring a privileged resolution before the Congress of the United States of America. I will stand here in the well of the Congress, and I will call for the impeachment of the president of the United States of America."
Green's announcement was met with caution from other Democrats, who have said there isn't a strong enough case to remove Trump from office yet and who worry a premature attempt at impeachment could doom a future effort to get him out.
"I think it's too early. We don't have the evidence; we don't have the case," Rep. Jerrold Nadler (D-N.Y.) told the Hill Wednesday. "You don't want to discredit it by voting for impeachment resolutions before you have the facts."
Latest impeachment push unlikely to succeed
Green has been a vocal critic of Trump and one of the first lawmakers to urge his removal from office.
"The president must be impeached," Green said in May, days after Trump fired then-FBI director James Comey. "I am a voice in the wilderness, but I assure you that history will vindicate me. I assure you that righteousness will prevail. I assure you that no lie can live forever and truth crushed to earth will rise again."
Green also cosponsored articles of impeachment drafted by Rep. Brad Sherman (D-Calif.) in July, which alleged that Trump obstructed justice when he sacked Comey. But the, which didn't garner much support, is currently sitting in the House Judiciary Committee.
This time, Green said he plans to put forth articles of impeachment as a "privileged resolution," which would force Democrats to decide quickly whether they want to back the Texas lawmaker's efforts.
But as the Washington Post reported Wednesday. Though Green told the paper no party brass had reached out to discourage him, House Minority Leader Nancy Pelosi has repeatedly said more facts are necessary before impeachment can be discussed.
"What are the facts that you would make a case on? What are the rules he may have violated?" she said during a CNN town hall in May, after Green first called for impeachment. "If you don't have that case, you're just participating in more hearsay."
Green effort underscores divisions among Trump critics
So, a Democrat is once again pushing for impeachment and it's likely not going to work — what makes this case different?
For one, if Green does put forth a privileged resolution, it will force the first-ever vote on Trump's impeachment just over nine months into his chaotic, controversial presidency.
What's more, Green's rationale has illuminated differences among Democrats and other Trump critics when it comes to if and when the president should be removed from office.
Pelosi and other party leaders have said the investigations into Trump should be allowed to run their course. But Green on Wednesday said that's a mistake, suggesting the House was abdicating its responsibility by "outsourcing the investigation" to an arm of the executive branch.
"We give the appearance that impeachment requires the commission of a crime, because that's what the Justice Department is looking for — criminality, not morality," Green said. "And too many people believe that if the Justice Department does not find that a crime was committed, then there is no impeachable offense, and nothing can be further from the truth."
Green has implied his articles of impeachment against Trump will include Comey's firing and the president's refusal to release his taxes, issues that have been of interest to special counsel Robert Mueller's fast-moving investigation into the Trump campaign's alleged Russian ties. They could also, he indicated, delve into "morality" issues, such as Trump's attacks on NFL players, his comments after the events in Charlottesville, Virginia, and his false claim that former President Barack Obama wiretapped his phones in Trump Tower.
Jonathan Turley, a professor of law at George Washington University, warned against such a rationale for impeachment Thursday, writing in the Hill that basing calls for removal on issues like Trump's NFL comments could reduce impeachment to "visceral and fluid determinations."
Green, however, told the Post on Wednesday that he'll be a "majority of one" if he must, saying "now is the time to let the world know that there is at least one person in the Congress who believes that the president has gone too far."
A spokesperson for Green did not return Mic's request for comment Friday as to if and when the Texas Democrat will bring articles of impeachment to the House floor.