White House "cannot guarantee" middle class won't pay more under Trump tax plan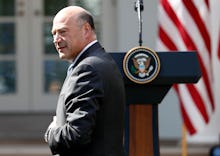 Chief White House economic adviser Gary Cohn again refused to guarantee that middle-class Americans won't pay more under President Donald Trump's proposed tax plan.
"There's an exception to every rule," Cohn said at Thursday's White House press briefing, after he was asked whether middle-class Americans will see a tax hike if Trump's plan passes.
Aside from refusing to guarantee that Trump's tax plan will benefit every middle-class American, Cohn also refused to acknowledge that Trump himself would see a huge tax cut under the proposed plan.
Trump told reporters on Wednesday that he specifically wouldn't benefit from the tax plan, despite the fact that he and his children would likely see millions in tax cuts thanks to his plan.
"I don't benefit. I don't benefit," Trump said, a claim that has been rated false by Politifact. "In fact, very, very strongly, as you see, I think there's very little benefit for people of wealth."
Cohn was repeatedly pushed to acknowledge that Trump would receive a massive tax break under the plan, but repeatedly refused to answer.
"Look, I told you it will benefit the middle class," Cohn said in response to why he wouldn't admit that Trump would see a cut. "American taxpayers care about what they take home, they care about what they have to spend. That's what they care about."
He went on to say that Americans will get a $1,000 tax cut that they could use to buy a new car or "renovate a kitchen."
However, that $1,000 tax cut would be for a family earning $100,000 a year. That's far higher than the roughly $56,000 median household income, according to the latest census bureau data.