A visual history of Oprah posing with giant baskets of vegetables on Instagram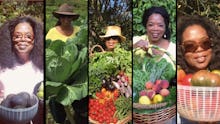 Certain celebrities are known for being very good at posting specific things on Instagram. Jenny Slate, for example, is known for her very sweet and funny little messages to fans. Sarah Jessica Parker is known for videos of herself earnestly getting excited about things, like walks in the West Village or the eclipse. And Oprah Winfrey is known for posting pictures of herself with bountiful, overflowing, amazing baskets of vegetables.
The latest example came on Thursday.
Here is Oprah, wearing a straw hat, holding a basket larger than most middle schoolers, filled to the brim with tomatoes and zucchinis and green beans and kale. Old MacDonald who?
"This makes me so happy!" she wrote. "Just picked. Wishing all kinds of bountiful harvest to you all."
Oprah posting incredibly joyful pictures of the vegetables in her garden has been a hallmark of her Instagram account. Every few weeks, depending on the season, we can depend on Oprah to show us her tomatoes.
We love it dearly. And so to honor that, we looked back at her Instagram and charted every single time she posted an image of herself holding giant baskets of vegetables.
It all began in 2012. After joining Instagram in April, Oprah's first picture of giant baskets of vegetables — or her "harvest," as she likes to call it — came to us in July.
"It's Thursday," she wrote. "Harvest Day from my garden. Don't cha love summer?!"
But because she's not in that picture, let's not count that. The first real time she posted a picture of herself posing with giant baskets of vegetables (and sometimes fruit) was August 2012.
On Aug. 30, 2012, she posted a picture of herself and her trainer Bob Greene with gigantic baskets full of tomatoes and potatoes and lettuce and corn and more on harvest day.
Minutes later she did it again, posting an image with only herself and some baby tomatoes. In the image, she glows.
"Baby tomatoes so sweet," she wrote. "Taste like candy!"
Just like that, one of the purest reoccurring cultural phenomenons on Instagram was born. And my, did it thrive.
From the jump, Oprah's excitement and pure, absolute joy over her garden has not dimmed. Just two weeks after her first harvest post, there was Oprah and her giant bushel of vegetables again. Bob Greene held tight onto a basket of what appears to be peppers and greens. Oprah's got the apples.
"Harvest Day!" she wrote, basking in the glorious sun. "Apples are crisp and perfect blend of tart and sweet!"
The final harvest post of 2012 came that December, with Oprah posing with turnips (we think?), while pointing to some eggs.
The next time she'd post with a giant basket vegetables came in May 2013, and this one is honestly quite extraordinary. Oprah, leaning out of a door, with a damn cornucopia of veggies, from artichokes to celery to beets to lettuce.
These definitely look store-bought, but we know Oprah would never deceive us like that. Her crops are simply thriving. "#LoveMyGarden," she wrote.
Honestly, same.
A week later, she was at it again, posing with some of the largest assortments of vegetables — and fruits, too — that we've ever seen.
There were herbs and fava beans and strawberries and lemons. She could supply a Sweetgreen for like two days.
We were clearly being blessed the summer of 2013 and we didn't even know it. Days after those fava beans, Oprah posed now with armfuls of zucchini and artichoke, and let us know that she was about to make some vegetable soup.
In June, she showed us the next round of her harvest, holding a basket of her freshest crops, which she told us was going to her friends Ellen DeGeneres and Portia de Rossi.
Name a more generous, kind human being. We'll wait.
We were left for months of 2013 with no harvest day pictures, and fell into a deep, dark depression that could only be cured with more vegetables. In September, she answered our prayers.
"Don't you love it when a tomato is real?" Oprah asked us, posing with a plastic basket of fresh tomatoes. Honestly Oprah, we can't think of anything we love more.
Later that month, she debuted some new crops: avocados, holding them tightly in one hand, with a basket of figs in the other.
She was going to cut the figs up and put them in some oatmeal. Genius.
In October, Oprah leveled up. She posted a picture of herself on a damn plane with her basket of fresh vegetables.
Please, if you could, look at those tomatoes.
For the first post of 2014, in January, she posted a picture of herself with her hair wet, looking resplendent, above overflowing baskets of herbs and veggies.
In February, she posed like a proud mother above a crib, but rather than a baby, Oprah was floating above some kale, cabbage, spinach, onions, celery and many other veggies and fruits.
She was feeling herself.
Now honestly, in March 2014, Oprah posted one of the more iconic harvest pictures. She is basking in the sun, her eyes squinted and her mouth smiling, holding a basket of gorgeous greens, with cauliflower making an appearance.
"Just picked tonight's dinner," she wrote. "Roasted cauliflower!"
Minutes later, we saw it for ourselves:
Simply stunning. Later that month, she posed with another bounty of her freshly picked harvest: strawberries and what she herself called "a bounty" of turnips, swiss chard, onions and spinach.
Have you ever been happier than Oprah is here, in April 2014, holding a basket of fava beans, broccoli, cabbage, onions, cilantro and artichokes?
We haven't.
That same month, Stedman got in on the fun, posing with a massive basket of kale and lettuce and turnips.
He should be so honored.
It'd be a while until we got another harvest picture in 2014, but in November Oprah's vegetables struck again.
"Still harvesting in November," Oprah wrote.
She got fancy a few days later, making a photo collage of her vegetables.
We'd give away our firstborn for that box that reads "Oprah's farm."
After quality holiday time with her family and friends that year, the next time we got a peek at her veggie bounty was January 2015.
Oprah stands with two gigantic baskets of vegetables while wearing a purple shirt, which happens to match the purple cauliflower she's just picked.
Again in March, she got fancy with that collage. Tucked between photos of flowers in her garden, there is Oprah with a giant basket of avocados and limes, next to another giant basket of greens.
Green, by the way, is Oprah's favorite color.
In April 2015, we were blessed with a video.
"Oh my goodness. This is an exciting day!" she screams. "Here's today's bounty. This is the big find this morning."
At this point, she grabs a head of cabbage that is far larger than her own head. Then she slaps it.
Moving on, in June, Oprah did the collage yet again. This time, we got a picture of a cow (his name is Ivory), a close-up of a basket of potatoes and then a picture of Oprah holding a 16-inch zucchini.
We'll let you make your own jokes.
Oprah's garden in the summer of 2015 was apparently super blessed. Oprah posed with giant carrots (larger than her head) and collard greens.
She then shared, yet again, her excitement over real tomatoes.
And then the pièce de résistance: a picture of Oprah, literally laughing out loud, holding a bassinet full of vegetables.
"Loading up the Jeep taking veggies to my neighbor," she wrote.
So kind.
This one from January 2016 doesn't show a basket, but can we talk about how Oprah matched her shirt to the purple potatoes?
An icon.
We'd have to wait until June 2016 to get a proper basket picture out of Oprah, but my was the wait worth it.
Here is Oprah, screaming in delight, above her harvest:
We ask you again: Have you ever been so excited about anything in your life?
That September, Oprah was back to obsessing over her tomatoes.
"Is there anything better than a freshly picked tomato?"
If it's from Oprah's garden then probably not, no.
The end of 2016 and the beginning of 2017 was a busy year for Oprah, producing shows like Greenleaf on her own OWN network and starring in movies on HBO definitely made her too busy to post more harvest pictures.
But this April, we got her back.
Holding a basket of greens that are literally larger than her own golden retrievers, harvest day was back on, baby.
In June, she asked us a tough question: "What to do with all this dill?"
Later that month, we got another video.
"I'm not even out of my pajamas yet and look what just came in," Oprah says. "Today's harvest."
She then sniffs some Thai basil, and asks whoever is holding her phone recording her to come closer, to smell it.
Farmer Winfrey showed herself again in July, holding potatoes in one hand and a giant carrot in the other.
"Gonna make potato soup and carrot juice," she announced.
And that was the last we saw of Oprah's harvest, until Thursday, when she posted this iconic picture.
We are not worthy of Oprah or her harvest.