The 'Onion' editor-in-chief resigns, reportedly over differences with Univision ownership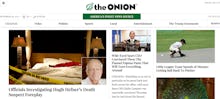 Two top editors at the Onion, a satirical news site, have resigned and will leave the company next month, the company confirmed to Mic.
Cole Bolton, the site's editor-in-chief, and executive editor Ben Berkley told staff Thursday that they were stepping down from their posts. Chad Nackers, the Onion's head writer who has been with the site for nearly two decades, will take over as the Onion's new editor-in-chief.
Bolton and Berkley's departure will coincide with the release of the Onion's next book, The Trump Leaks, in October.
Bolton has worked at the Onion since 2010, and has been the site's editor-in-chief since 2014, according to his LinkedIn profile. He joined the Onion after sending in headline suggestions unsolicited while he was working as an economist.
Berkley had been at the Onion since 2011, according to his LinkedIn profile. He was a co-founding editor at Clickhole, which satirizes viral news stories and clickbait.
Neither Bolton nor Berkley responded to requests for comment.
A source familiar with the situation said that Bolton and Berkley's departures were partially due to disagreements about the direction the site was taking under the ownership of Univision. Univision purchased a large stake in the Onion, as well as its sites A.V. Club and Clickhole, in January 2016.
A spokesperson for Univision said the following:
"Though we are are a big fan of the Onion's ongoing work, we will defer questions to Fusion Media Group which is the entity that manages our investment and relationship with the Onion."
Bolton and Berkley's departures come as the site prepares to migrate to Kinja, a content management and publishing system built for the now-defunct Gawker Media that Univision acquired last year. The A.V. Club, a sister site to the Onion that Univision also purchased, made the switch to Kinja last month.
Sept. 29, 2017, 8:53 a.m.: This story has been updated.
Have a tip about this story? Contact the authors at tony@mic.com or ksutton@mic.com.