'Daily Caller' pulls video mocking 'New York Times' reporter after being blasted as anti-Semitic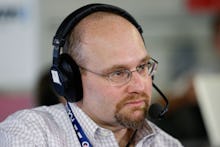 The Daily Caller, the conservative website founded by Fox News host Tucker Carlson, has deleted a video featuring New York Times reporter Glenn Thrush that was immediately labeled as being openly anti-Semitic.
Maggie Haberman, Thrush's colleague at the Times, was one of the first to point out the video soon after it uploaded to YouTube on Thursday. The 24-second clip, which was captioned, "Watch Glenn Thrush demonstrate his intellectual and linguistic superiority," showed Thrush appearing on MSNBC for an interview, during which he uses the Yiddish word "chutzpah." The video then replayed Thrush saying "chutzpah" repeatedly, with the Hebrew song "Hava Nagila" playing in the background.
The video was titled: "New York Times' Glenn Thrush Has KHOUTSPA."
Almost immediately after Haberman's tweet, the video was met with a chorus of condemnation.
The Daily Caller did not respond to a request for comment about the video.
After Haberman's tweet, Daily Caller editor in chief Geoffrey Ingersoll responded to Haberman's tweet, in which she asked whether she was "seeing this correctly."
The Daily Caller's Betsy Rothstein defended the video on Twitter, saying that it was intended as a joke.
Rothstein also said that the video was "accidentally released too soon" and that it lacked context.
The Jewish holiday Yom Kippur begins on Friday.