Conservatives say McConnell "hasn't delivered on anything." Now, they're going after his lieutenants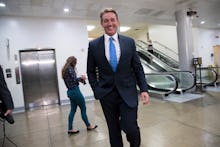 Welcome to Mic's daily read on Donald Trump's America. Want to receive this as a daily email in your inbox? Subscribe here.
Every day, we bring you a different dispatch on Trump's America. Today's focus: The promise of primaries.
Friday's dispatch: "I hope Steve Bannon will come in and support me"
Months before Roy Moore cruised to victory in Alabama's Republican Senate primary, challenges to incumbent Republicans in Arizona and Nevada already had Sen. Mitch McConnell (R-Ky.) worried.
And the dynamics in those races are not like Alabama's, where President Donald Trump backed a sitting senator who staunchly supported his agenda.
Conservative candidates and consultants eyeing victory in Senate Republican primaries believe voters will punish Sens. Jeff Flake (R-Ariz.) and Dean Heller (R-Nev.) for openly questioning and not supporting Trump's agenda.
Polls and grassroots enthusiasm, they say, show candidates who back the "America first" agenda — by keeping out undocumented immigrants and tightening global U.S. trade relationships — and promise to unequivocally back Trump will win the support of Republican primary voters next year.
"Whether it's a fair assessment or not, Mitch McConnell hasn't delivered on anything," said Eric Beach, chairman of Great America Alliance, which had the largest super PAC supporting Trump last year. "Every time that Trump makes suggestions on how to get something passed, there's always been this Senate disapproval of his methods to get things done.
"With all respect to the media and the D.C. class, they don't understand the intensity behind illegal immigration and trade inequity."
Beach said Great America Alliance, which raised $30 million last year, would support Republican primary challengers in Arizona and Nevada. The super PAC is monitoring who to back in Tennessee and will support Chris McDaniel, a potential primary challenger to Mississippi Sen. Roger Wicker, if he runs.
The alliance funneled $150,000 to Moore's campaign while working with Steve Bannon and Sarah Palin to support Moore's Alabama bid. Beach's group may also back a Republican in Wisconsin's primary, where the GOP is trying to unseat Democratic Sen. Tammy Baldwin.
Conservatives see such promise in Arizona. Beach is investing his personal time in electing Kelli Ward, who lost to Sen. John McCain (R-Ariz.) in November's Senate Republican primary. A former state senator, Ward has received waffling support from Trump — who has a mutually loathsome relationship with Flake.
The primary election isn't until next summer, but polling last month showed Ward beating Flake 47% to 21%. In July, a poll showed him with just a 36% approval rating. Trump won Arizona in November by 3.5 percentage points.
In neighboring Nevada, perennial candidate Danny Tarkanian calls Heller, who held a press conference blasting the first Republican Senate health care bill, a "dead man walking."
"I hope Steve Bannon will come in and support me," Tarkanian told Mic. "I hope Breitbart will cover this substantially. I hope we'll have some third-party support."
Both Beach and Tarkanian said it isn't their aim to form a Senate version of the House Freedom Caucus, a group of about 30 Republicans who pressure leaders to enact conservative policy. But their goal sounds similar: Send Republicans to Washington who will not compromise on immigration, trade and job creation.
"The people that are voting are so upset with politicians who say one thing when they run for office and do the other thing once they're elected," Tarkanian said. "We're gonna be elected with a certain purpose — and get that purpose done."
Today's question: Can conservatives win enough races to drive the Washington agenda? Or would it create more gridlock? Email us at trumpsamerica@mic.com.
Friday in Trump's America:
In advocating for the GOP tax reform plan, White House officials "cannot guarantee" it will lower taxes on the middle class. But economic adviser Gary Cohn said a family making $100,000 would see a tax cut of $1,000 — enough to buy a car, he said. Many projections say it would cut taxes on the wealthy while increasing the national debt.
Sen. Orrin Hatch (R-Utah) on tax reform: "I don't want it to be some piece of crap, which we're so used to around here." But the GOP is acknowledging this may be even harder than the health care fight.
"Congress is finally working on bipartisan health care solutions — but the damage may already be done." With the Sept. 30 deadline to pass a "repeal and replace" bill with only 50 votes in the Senate, re-emerging bipartisan talks may not be enough to soothe market anxiety and lower premiums that are rising in the face of uncertainty from Washington.
Fake news watch: No, the State Department is not making people pay to leave Puerto Rico. Mic spoke with a police officer in Puerto Rico who detailed the devastation. And Trump's inaugural committee is donating $3 million to Puerto Rico relief after criticism that it was not donating remaining funds to charity.
Trump keeps saying he would have the votes for health care reform if a senator were not in the hospital. That doesn't appear to be accurate.
Mic digs into the fear of not traveling to certain countries — and highlights ones you should still visit.
On Tuesday, House Republicans will vote on passing a ban on 20-week abortions — with violators going to prison for up to five years.
Today's MicBite:
The U.S. military and other resources are on the ground in Puerto Rico, assisting people recovering from hurricane devastation. Tap or click below to watch the video.