Trump delays rule to punish drugmakers for price gouging — breaking key campaign pledge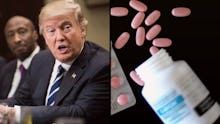 The Trump administration on Thursday further delayed implementing a rule that would punish drug manufacturers for knowingly overcharging low-income and vulnerable Americans for prescription drugs.
That rule was created in 2010 under the Affordable Care Act to protect hospitals from being overcharged on prescription drugs that are supposed to be discounted under a program known as 340B. The program, which dates back to the early 1990s, is essentially an agreement between drug companies and the government to discount drugs to hospitals and health clinics that serve high numbers of low-income patients.
The rule mandated by the ACA was written to deter price gouging. Under the rule, if a drug manufacturer is found to have "knowingly and intentionally" overcharged customers, a fine of up to $5,000 could be imposed for each instance of overcharge.
While the rule was supposed to go into effect on Sunday, it's now been delayed until July. The Department of Health and Human Services quietly logged the delay into the federal register on Thursday.
Thursday's delay marks the fourth time this year the administration has delayed implementation of a rule that would punish drug companies for price gouging hospitals and patients who are supposed to benefit from discounted drugs. In a statement to Mic about the rule delay, a spokesman for the Health Resources and Services Administration, the federal agency that administers the 340B program, said groups affected by the rule need more time to prepare for its implementation.
"HHS continues to believe that the delay of the effective date provides regulated entities sufficient time to implement the requirements of the rule, as well as allowing a more deliberate process of considering alternative and supplemental regulatory provisions, and to allow for sufficient time for additional rule-making," David Bowman, the spokesman, said.
Based on his campaign, Trump could be expected to support such a proposal. While stumping for president, Trump promised to "bring down" the cost of prescription drugs. In a meeting earlier this year with CEOs of pharmaceutical companies, he told them they needed to lower prices. He blasted "RIPOFF DRUG PRICES" in August on Twitter.
But beneath the tweets, consumer advocates, hospital groups and others say Trump has gone back on his campaign promise to penalize drug companies for increasing prescription drug prices. Critics argue the president and his administration do not hold pharmaceutical companies accountable on how they price the drugs they sell to hospitals serving low-income patients because former pharmaceutical executives oversee Trump's health policies. In fact, a longtime lobbyist for drugmaker Gilead Sciences, Joseph Grogan, who lobbied against the ACA's 340B rule, now runs the White House group focused on lowering drug prices.
"If you're looking for ways to combat the high cost of prescription drugs, it doesn't make sense to attack and limit [340B] in any way," a Washington health care lobbyist opposed to the pharmaceutical agenda said, speaking anonymously in order to candidly assess the Trump administration.
"Thus far, what we have seen from the [Trump] administration ... has been to hurt the 340B program."
The HRSA spokesman said the government has an informal process to resolve price disputes. But it requires participation from hospitals and drug companies, and participation is voluntary. Hence, the process has only been used four times since 1996.
The agency does audit manufacturers to see if they are charging the right prices, but currently cannot punish price gouging companies without kicking them out of Medicaid. That would leave patients without access to certain drugs, and a drug manufacturer has never been kicked out of Medicaid for overcharging.
Drugs at a discount?
The 340B drug discount program was launched in 1992 through a deal struck between the federal government and drug manufacturers. In order for companies to have their drugs included in the large Medicaid market, they have to discount drugs for health care providers that serve large numbers of poor, underinsured and uninsured populations. When working properly, the program lets providers serving those people buy drugs with an average discount between 25% and 40%.
But drug companies don't always charge the discounted prices that are mandated by the 340B programs. Since 2003, the Department of Justice has settled at least 13 cases with drug manufacturers for allegedly overcharging the broader Medicaid program. At least $97 million from those settlements has been reimbursed to the 340B program's "covered entities": hospitals, health clinics and other organizations eligible for discounted drugs.
The overcharging occurs because there is no way to check whether the prices drug manufacturers are charging are fairly discounted. A recent high-profile example of price gouging came during the Department of Justice's pursuit of damages from Mylan for overcharging Medicaid for the price of its EpiPen. The $465 million settlement included at least $19.3 million to be paid to 340B providers.
The government has not studied overcharging in the 340B program since 2006, when it found 14% of drugs were overpriced. No one inside or outside the agency told Mic they can confidently assess the current level of overcharging in 340B.
"Covered entities have pretty much given up on reporting suspected overcharging to [the government] because the agency has never really responded to such complaints," William von Oehsen III, an attorney who helped create the 340B program and has sued drug companies for overcharging, said.
"It is sad — and infuriating."
The impact of overcharging
When the federal government sought further public comment earlier this year on whether to penalize drug companies that overcharge, hospitals weighed in. They said the penalty was crucial in preventing egregious price increases on discounted prescription drugs. Of 51 comments submitted, 21 supported further delay. All of those came from pharmaceutical companies or industry groups.
Entities like hospitals that receive discounted drugs can no longer sue drug manufacturers after a 2011 Supreme Court decision, forcing them to rely on the "honor system" or pressure from HRSA to ensure the right price.
"The final rule [needs] to go into effect immediately, so statutory requirements that have been in effect for 25 years can finally be enforced," the National Association of Community Health Centers wrote in a comment submitted in September.
Entities that receive discounted drugs through 340B do not pocket the savings that comes with buying cheaper prescriptions. They often reinvest those dollars into charitable care or expanded health care services, such as transportation for low-income patients. And 340B drug discounts represent only 1% of the U.S. drug market — making hospitals wonder why the pharmaceutical industry would fight a check on price gouging.
One reason drug companies give for opposing this rule is their claim that the 340B program itself creates opportunities for hospitals to fraudulently use the program, like offering discounts to patients who are not eligible for them. Madeline Wallack, a 340B consultant who spent eight years inspecting the program at the Department of Health and Human Services under President George W. Bush, said there has never been a fraud investigation into an entity covered by the program.
"It's easy to create a narrative that looks like and smells like fraud when there's actually nothing there," Wallack said. "We see hospitals and drug companies locking horns for a long time over things that should have been resolved. It's harming [patients] directly."
Since 2010, 82 rural hospitals in the U.S. have closed. Many of them serve high populations of Medicare and Medicaid recipients, giving them access to 340B discounts, and 40% of rural hospitals operate at a loss, Diane Calmus of the National Rural Health Association, said.
"High drug costs are an issue not only for hospitals, but patients they're providing care for," Calmus said. Her group is frustrated with the seven-plus-year delay in implementing the rule to penalize price gouging. "[Drug] prices are rising dramatically without justification. We see drugs that have been around for a while, jumping by large margins without an explanation."
A lack of transparency
In addition to the penalty for price gouging, the ACA also mandated the government make the 340B drug pricing process more transparent. Seven years later, the government has yet to launch a database of discounted prices for drugs sold through the 340B program.
"People need to have the ability to make sure they're paying the right price for a drug," Ted Slafsky — CEO of 340B Health, a group that advocates for more than 1,300 hospitals and clinics that participate in the discount drug program — said. "Right now, they're at the mercy of the drug industry."
The inspector general's office and outside groups said that absent any transparency or threat of penalty, there is no real way to monitor complaints of price gouging, determine if drug companies are overcharging or know how rapidly drug prices in 340B are rising.
"Covered entities can't verify that they're paying the correct price," Kelly Waldhoff, a deputy regional inspector general in HHS, said. "The [Affordable Care Act] authorized greater pricing transparency for covered entities, as we recommended, but it has not yet happened."
The power of Big Pharma
It's not hard to track the transition of the pharmaceutical industry into Trump's White House. Just look at the LinkedIn profile for Grogan, the former industry executive who now leads the Office of Management and Budget's Health Programs.
Grogan joined the Trump administration in March after about a six-year stint as a lobbyist for drugmaker Gilead Sciences. His lobbying disclosure form for the first quarter of 2017 listed Grogan as lobbying on "pharmaceutical policy as it relates to payments under the 340B program" on behalf of a leading prescription drug manufacturer.
Gilead, which has faced criticism for pricing its hepatitis C medication at $1,000 per pill, spent $1,050,000 on three lobbyists, including Grogan, in the first quarter of 2017 alone, according to the same disclosure form.
At the White House, Grogan has taken leadership of Trump's working group focused on lowering drug prices. In June, Kaiser Health News obtained documents from those meetings that showed pharmaceutical company executives were crafting the administration's approach to lowering drug costs. Also in June, Politico pointed out that as of then Grogan has not obtained the necessary ethics waiver to work for the government on issues he had previously lobbied on.
The same week Grogan joined the White House, the administration delayed the implementation of the price gouging punishment rule that it further delayed this week. After a delay in May, the government invited further comment on a rule that had already taken seven years to develop.
Mic contacted the White House for comment but as of press time had not received any response.
Drug companies spent $248 million on reported lobbying in 2016. That's nearly equivalent to all the lobbying by all other health care groups combined, a sector that spent more than any other sector on lobbying last year at $514 million. Hospitals, the primary group opposed to drug companies in the 340B fight, spent 38% of what pharmaceuticals did on lobbying last year.
That money, advocates say, buys influence that has led to the administration not acting to punish price gouging drug companies.
"There's a long history of [groups that are supposed to receive discounted drugs] complaining to the government about what appears to be overcharges," von Oehsen said. "There is a long history of the government really not doing anything about it."