Head of Air Force Academy after racist incident on campus: "You should be outraged"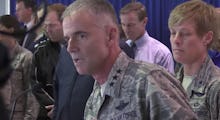 After racist slurs were found written on the doors of black cadet candidates at the U.S. Air Force Academy Preparatory School in Colorado Springs, Colorado, earlier this week, academy's superintendent delivered a powerful message.
"If you're outraged by those words, then you're in the right place," Lt. Gen. Jay Silveria said Thursday in a speech to the Air Force Academy. "You should be outraged not only as an airman, but as a human being."
According to the Air Force Times, the incident was discovered on Monday. Five black cadet candidates found racist, hateful writing on the white boards outside their dorm rooms, including the message "Go home n*gger."
The Air Force Prep School is a 10-month program that prepares some 240 students a year to enter the Air Force Academy as freshman cadets the following year.
In a Facebook post about the incident that has since been taken down, according to the Air Force Times, the mother of one of the victims wrote, "This is why I'm so hurt! ... These young people are supposed to bond and protect each other and the country. Who would my son have to watch out for? The enemy or the enemy?"
Addressing the academy on Thursday, Silveria stressed the importance of dialogue about the slurs found on campus, pointing out the academy faculty and leadership who had come address the issue.
He also touched briefly on the recent white supremacist rally in Charlottesville, Virginia, and the anti-racist #TakeAKnee protests in the NFL as examples of issues sparking nationwide dialogue about race.
"We would all be naive to think that everything is perfect here. We would be naive to think we shouldn't discuss this topic ... We would also be tone deaf not to think about the backdrop of what's going on in our country, things like Charlottesville and Ferguson, the protests in the NFL."
Silveria referred to the racist messages as an example of "small thinking and horrible ideas," and urged anyone who didn't value or respect the diversity of the academy to "get out."
"If you demean someone in any way, then you need to get out," Silveria said. "And if you can't treat someone from another race or a different color skin with dignity and respect, then you need to get out."
The Air Force Times reported that the school has opened an investigation into the incident but had not released any more information on Thursday.