Preteen drag superstar Desmond Napoles' advice on being yourself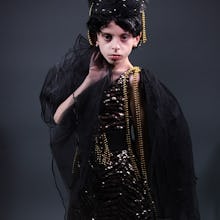 "To be beautiful. To be a little sassy. Not much. Beautiful. Friendly," that's how Desmond Napoles, a 10-year-old drag veteran, defines being fierce — a word one be hard-pressed not to use when describing the precocious pre-teen.
Drag found Napoles at the ripe young age of 2. "I used to get Mommy's towels and everything and put them around my head and face," he said. "And then clomp in her big heels — just clomp around the house, and it was fun." He cites Pepper LaBeija and "realness" as inspirations for his looks.
All eyes were on Desmond in 2015 when a viral video captured him voguing down Fifth Avenue at the New York Pride Parade, even catching the ire of conservative political commentator Rush Limbaugh. Napoles recently made waves at RuPaul's DragCon in New York City, where he cut the opening ribbon alongside his idol, RuPaul.
In an interview with Mic, Desmond and his mother Wendylou talk about their relationship, criticism and how to stay true to yourself. Watch below.