Jared Kushner's worst week in the White House: 4 revelations that have dogged Trump's son-in-law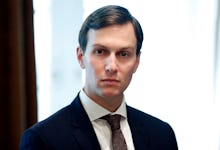 It has not been a good week for Jared Kushner.
President Donald Trump's son-in-law and senior adviser has faced a barrage of negative headlines, all of which further plague the already embattled member of Trump's staff.
The week began with the revelation that Kushner — along with several other top Trump officials — used private email to conduct official White House business. Charges of hypocrisy bubbled up, as private email use was one of Trump's major attacks on Hillary Clinton in the 2016 presidential election and one of the major reasons for her loss.
Kushner's week didn't get any better from there.
On Tuesday, Sen. Luther Strange (R-Ala.) lost a GOP primary runoff in a special election to replace Attorney General Jeff Sessions — despite the fact that Trump endorsed and campaigned for Strange.
Kushner reportedly suggested Trump endorse Strange over the eventual winner, controversial former judge Roy Moore. Kushner wanted Trump to endorse Strange in order to anger former White House strategist Steve Bannon, who backed Moore's candidacy, according to a HuffPost report.
However Strange's loss embarrassed Trump and emboldened Bannon, once again leaving Kushner with egg on his face surrounding the political advice he gave his father-in-law. (Kushner also suggested Trump should fire now-ex FBI Director James Comey, a decision that's dogged Trump and potentially opened Trump up to legal trouble.)
The bad news kept coming after Tuesday.
There was an embarrassing report that Kushner mistakenly registered to vote as a woman in New York.
The New York Board of Elections said Friday that the error was its, not Kushner's. But that didn't erase the many jokes made at Kushner's expense.
And Kushner's personal lawyer was fooled by an email prankster twice, ultimately helping reveal that Kushner did not tell Senate investigators that he used personal email to conduct White House business during an interview on the Russia investigation.
Kushner's lawyer says none of the work-related emails Kushner sent from his personal account relate to the Russia investigation.