Meet Ayana Ife, the hijabi designer bringing gorgeous modest fashion to 'Project Runway'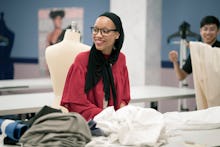 On a season of Project Runway that made history for being the first to include plus-size models, Ayana Ife is making a different kind of history. She's the first hijabi designer who's ever been on the show, and the first one to bring modest fashion to the runway week after week.
While other designers consistently send short shorts or minidresses down the runway, Ife has stuck to longer dresses or pants, and often covers her model's hair with a scarf or hijab.
By simply being on the show, she has the opportunity to show modest fashion in a powerful way to people who maybe have never seen — or understood — it before.
"I didn't know what to expect, and going in, especially in the first challenge, I had my girl in a long dress and in a hijab," Ife said in an interview. "I did that purposefully. Tim said show us who you are, so it was important that I did that and showed them what I was about. The judges were incredibly receptive to me and my perspective. That came as a shock. I was like, I have no idea what Heidi is going to say about this."
Having auditioned to be on the show three times before finally getting it, Ife is obviously stoked at just how much the judges have consistently believed in her designs, and the women consumers that she herself wants to pay attention to.
Ife has been sewing since she was 6 years old, picking up fabric scraps from her mother, who was a seamstress, and making clothes for her dolls. In the fifth grade, she made her first garment: a pair of white pants. In her teens, she started to upcycle garments she'd find at charity shops, styling them to her liking.
"I grew up wearing burqas," Ife, 27, said. "So when I got older, and made my own money and went out to purchase things, I realized that there weren't any real options for me. That's when I was like, well, I wish there was Western-style clothing that was fashion-forward and modest, and that's what I decided to get into."
On the show thus far, Ife has already done a fair bit of teaching, like in one episode when she was asked to design some sleepwear, and judge Heidi Klum was a bit shocked to see that Ife's design wasn't as modest.
"I always like to say that modesty is subjective," Ife said. "My modest may not be modest enough for someone else. I think for Heidi, it wasn't necessarily about even my modest fashion but for me as a Muslim, she didn't know that we aren't always covered all the time. If you don't know then you don't know. Modest sleepwear is not the norm."
Ife's presence on the show comes at an interesting time. At Marc Jacobs' New York Fashion Week show just this month, models walked out with their hair covered, in scarves and hijab-like wraps. That, for Ife, was a bit complicated.
"Fashion pulls influence from pretty much every culture," Ife said. "When it comes to the headscarf, lots of African cultures will wear it for whatever purpose, but the hijab is religious. It's like wearing a yarmulke. For me it is very personal, and it took a lot of courage to put a hijab on my model in my runway shows."
Seeing high-fashion models wearing the same kind of head covering that has caused random people to come up to Ife and curse her out as an accessory was understandably strange.
"Reading through his comments on Instagram, people were like, 'Oh this is great,' but in my comments, sometimes people are like 'This is disgusting,'" Ife said. "So a recognized designer does it and now it's beautiful. Muslim women have been attacked. I've had people walk up to me and say 'Fuck you.' This is something we have to deal with every day. It was interesting to see something like that on the runway, and I'm not saying it's right or wrong, but I feel like the reference should always be given."
On the flip side though, Ife sees hope in models like Halima Aden, who's walked for Kanye West and covered magazines from Allure to Vogue Arabia, all while wearing a hijab.
"With Halima I thought it was absolutely beautiful," Ife said. "It's empowering a lot of young girls, and it's nice to have an idol you can look at and be like, 'Wow I can aspire to be that.' It gives people hope."
On the show, which has wrapped, Ife said that she learned the powerful lesson that her dreams are worth believing in.
"The one main thing I learned is that my main dream is worth it, and just as worth it as anyone else's dream," Ife said. "At one time I was thinking that a fashion degree wasn't worth it. Being on the show really dispelled all of that with me. It really encouraged me to be myself. Ive never been more genuine, and doing my best."
And as far as what she hopes for her own career and future, she's dreaming big.
"I want to be definitely internationally acclaimed in the modest market," Ife said. "I want to be a pioneer in laying down the foundation for women finding modestwear and options that are really great. I want to be at New York Fashion Week. I want to be in Paris. I want to be in Italy. As much as I love designing gowns and dresses, what we want is ready-to-wear, like sportswear or swimwear, so I'd love to collaborate with an Under Armour or Nike."
Project Runway airs Thursdays at 9 p.m. ET/PT on Lifetime