US cuts Cuba embassy staff, stops processing visas in response to mysterious attacks on diplomats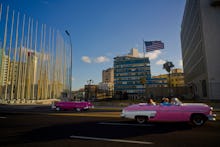 The United States has instructed 60% of its embassy staff to leave Cuba and will halt visa processing in the country in response to what it says are mysterious attacks on diplomats, the Associated Press reported Friday.
The U.S. is removing all its its "nonessential" embassy staff, according to the report, and will stop processing visas "indefinitely" in response to what sources told the AP were "specific attacks" on its staff. The Department of State will also issue a travel warning advising Americans not to travel to the country.
The move comes after at least 21 American diplomats suffered injuries, including brain trauma and permanent hearing loss, in suspected "sonic attacks."
Cuba has denied responsibility and President Raul Castro recently expressed to U.S. officials that he was "equally baffled, and concerned" by the bizarre occurrences, according to the Washington Post.
But Secretary of State Rex Tillerson said earlier this month that he was mulling shutting down the U.S. embassy in Cuba, telling Face the Nation that the issue was "under review."
"We have it under evaluation," Tillerson said. "It's a very serious issue with respect to the harm that certain individuals have suffered."
The move to dramatically scale down embassy staff — which was reportedly ordered by Tillerson late Thursday — may indicate that the U.S., which has so far avoided accusing the Cuban government, is now blaming it for the attacks, according to AP.
Tensions increase between U.S. and Cuba
Friday's news comes amid heightened tensions between the U.S. and Cuba.
President Donald Trump in June announced that he would reinstate tough restrictions on Americans seeking to travel to Cuba and companies seeking to do business there.
His predecessor, Barack Obama, cut a historic deal in 2014 to normalize relations between the two nations, which cut off ties during the Cold War. But Trump called that deal "terrible and misguided," and reversed course.
As the AP notes, the State Department's moves Friday will likely deal another blow to relations between the countries.
No Cuban diplomats have been ordered to leave the U.S., but the U.S. will not send delegations to Havana. The State department's travel advisory could also impact Cuban tourism, one of the island nation's most important industries; the U.S. is warning Americans that some of the mysterious attacks occurred in Cuban hotels.
It isn't clear exactly how the move will impact Cubans seeking visas to enter the U.S. The AP reported that they may be able to apply for U.S. visas via embassies in neighboring countries.