While You Weren't Looking: 5 things the Trump Cabinet did this week that didn't involve the tax code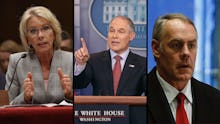 In a week dominated by the death of another Republican health care bill, the release of a new tax reform proposal and the ongoing crisis in Puerto Rico, a lot of important news from President Donald Trump's administration flew under the radar.
Here are five important stories you might have missed from the Trump cabinet.
Another cabinet secretary chartered private flights on taxpayers' dime
Revelations about Health and Human Services Secretary Tom Price chartering private flights using taxpayer money have continued plaguing the Trump administration throughout the week.
But it turns out that Price wasn't the only Trump cabinet member jet-setting on the federal dime. Multiple reports have revealed that Trump Interior Secretary Ryan Zinke chartered a private flight from Las Vegas to Montana at the cost of $12,375.
The plane reportedly belongs to the Wyoming based oil-and-gas company Nielson & Associates.
Zinke and his staff also took a number of chartered flights between the islands of St. Croix and St. Thomas in March. The cost of those flights has yet to be revealed.
EPA Administrator Pruitt spent $25,000 to install a soundproof booth in his office
Environmental Protection Agency Administrator Scott Pruitt spent nearly $25,000 in taxpayer money to install a custom soundproof booth in his office according to a report in the Washington Post.
Reviewing government records, the Post found that the EPA had hired a private contractor to build a customized soundproof booth at the steep price of $24,570. A sales consultant who worked with the company that installed the booth told the Post, "Their main goal was they wanted essentially a secure phone booth that couldn't be breached from a data point of view or from someone standing outside eavesdropping."
Education Secretary DeVos declined to meet with former students of for-profit colleges
Education Secretary Betsy DeVos, who once took time out of her busy schedule to meet with "men's rights" activists, declined an invitation to meet with victims of for-profit college fraud.
While visiting Harvard University on Thursday, DeVos was invited to meet with the school's Project on Predatory Student Lending. The project, which serves clients who have been swindled by for-profit colleges accused of rampant fraud, attempted to set up some time for the Education Secretary to meet with the faces of for-profit education abuse.
But a spokesperson for the DeVos told the group that she could not find time in her schedule for the meeting.
DeVos has previously come under fire for filling the Department of Education with former for-profit college executives.
Transportation Department sued by disabled vets for rolling back airline protections
A group of veterans with disabilities is suing the Department of Transportation for a Trump administration decision to roll back key air travel protections designed to help people with disabilities.
The group Democracy Forward is leading the suit on behalf of Paralyzed Veterans of America, challenging the Trump administration's decision to undo an Obama-era rule that forced domestic airlines to report data on lost and damaged wheelchairs and scooters, according to a press release.
The suit alleges that the Department of Transportation made their decision without providing an opportunity for the public to weigh in and comment in violation of the Administrative Procedure Act.
The Trump administration proposed nuclear and coal power plants get paid more
Energy Secretary Rick Perry released a proposal on Friday that would mandate coal and nuclear power plants receive higher payments for the energy they produce.
The proposal is part of an attempt to save coal and nuclear power plants that are on the verge of shutting down because of competition from cheaper sources of fuel.
In a statement, Perry said the plan "will strengthen American energy security by ensuring adequate reserve resource supply and I look forward to the commission acting swiftly on it."
The Energy Department does not have the authority to create the new rule on its own. Instead Perry is requesting that the independent Federal Energy Regulatory Commission use its rate setting powers to implement the new proposal. FERC's commissioners are appointed directly by the president.