Trump suggests Puerto Rico should be on the hook for its own rebuilding efforts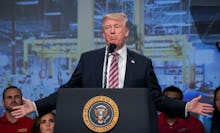 President Donald Trump suggested Friday that the U.S. government would set conditions for aid to Puerto Rico, a U.S. territory trying to rebuild after it was decimated by Hurricane Maria — leaving millions in the dark and without access to basic necessities like food and water.
"Ultimately the government of Puerto Rico will have to work with us to determine how this massive rebuilding effort — it will end up being one of the biggest ever — will be funded and organized, and what we will do with the tremendous amount of existing debt already on the island," Trump said during a speech to the National Association of Manufacturers in Washington, D.C., referencing the island's debt crisis.
Trump's tone on Puerto Rico's need for funding to rebuild after being hit by a devastating hurricane is far different than the tone he used after hurricanes Harvey and Irma struck Texas and Florida, respectively.
"You're going to see very rapid action from Congress — certainly from the president," Trump told Texans, after Houston and other cities along the Texas coast saw extreme flooding and damage from Hurricane Harvey.
"We're going to get your funding."
Trump also vowed to give Florida everything it needed to rebuild after Irma, Gov. Rick Scott said, as the storm was about to make landfall.
"President Trump has promised me all the federal resources I need," Scott said.
However Trump has been less forceful about his desire to help Puerto Rico — a U.S. territory home to nearly 3.5 million.
"The fact is that Puerto Rico has been destroyed by two hurricanes. Big decisions will have to be made as to the cost of its rebuilding!" Trump tweeted Friday morning.
Trump's tone on relief funding on Puerto Rico, as millions on the island are stranded in the dark without easy access to water and food, is causing an uproar.
He also came under fire for how long it took him to waive a nearly 100-year-old shipping rule that blocked foreign ships from helping deliver much-needed resources to the island.
Trump only waived the rule, known as the Jones Act, for 10 days — which critics say is not long enough for an island reeling from such widespread devastation.