A look at all the members of the Trump administration who have resigned or been fired thus far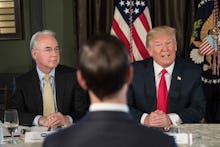 On Friday night, embattled Health and Human Services Secretary Tom Price offered up his resignation in the aftermath of a scandal involving his use of hundreds of thousands of taxpayer dollars to get around via private jets in lieu of commercial air travel options.
In a statement, the White House announced that President Donald Trump had accepted the resignation and had appointed Don J. Wright, deputy assistant secretary for health, to serve as acting secretary.
This isn't the first time a high-profile member of Trump's cabinet has made a swift move for the door. In fact, the tumultuous turnover rate has become something of a hallmark of the administration itself. Below are nine of the most prominent — and sudden — departures the Trump White House has weathered thus far.
Sebastian Gorka
On Aug. 25, Gorka, a deputy assistant to Trump, submitted a terse letter of resignation amid reports that he had become unhappy with the direction the president had taken on foreign policy, as well as the elevation of certain members of the administration.
"[G]iven recent events, it is clear to me that forces that do not support the MAGA promise are — for now — ascendant within the White House," he wrote. "As a result, the best and most effective way I can support you, Mr. President, is from outside the People's House."
Steve Bannon
Just one week earlier, reports surfaced that Trump had removed Steve Bannon — the controversial chief strategist who has been repeatedly linked to far-right groups — from the White House.
"White House Chief of Staff John Kelly and Steve Bannon have mutually agreed today would be Steve's last day," White House press secretary Sarah Huckabee Sanders said in a statement at the time. "We are grateful for his service and wish him the best."
Anthony Scaramucci
After a whirlwind ten days as White House communications director, Anthony Scaramucci was relieved from his post after the New Yorker published the profanity-laden transcript of a phone conversation in which he had referred to former chief of staff Reince Priebus as a "fucking paranoid schizophrenic, a paranoiac" and suggested that White House chief strategist Steve Bannon sucks his own "cock."
Reince Priebus
It was via a tweet — Trump's preferred method of communication — that the removal of Reince Priebus as chief of staff was announced to the American public.
"I am pleased to inform you that I have just named General/Secretary John F Kelly as White House Chief of Staff," the president wrote.
Sean Spicer
Spicer's resignation came swiftly after Trump's appointment of Anthony Scaramucci's communications director. According to a report by the New York Times at the time, Spicer objected to Scaramucci's hiring on the grounds that it would only add to the existing confusion and uncertainty swirling around the White House.
James Comey
In one of the most shocking developments of the fraught Trump administration, the president opted to fire FBI Director James Comey amid an ongoing investigation into his campaign's rumored ties to Russian intelligence operatives.
At the time, Trump justified the dismissal with claims that Comey had mishandled a prior investigation into Democratic rival Hillary Clinton's use of a private email server.
A statement released at the time of Comey's dismissal claimed that Trump had acted under the advisement of both Deputy Attorney General Rod Rosenstein and Attorney General Jeff Sessions.
Michael Flynn
One of the first casualties of the Trump administration, Flynn resigned in scandal in February after it was revealed that he had discussed sanctions former President Barack Obama had imposed on Russia with that country's ambassador to the U.S. while the 2016 presidential election was still ongoing.
Although Flynn initially flatly denied the allegations of improper communications to the Washington Post, he eventually course-corrected, claiming that he "couldn't be certain that the topic never came up."