Trump lashes out against Puerto Rico: "They want everything done for them"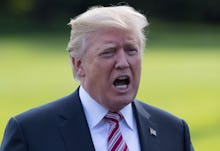 President Donald Trump on Saturday attacked leaders in the hurricane-ravaged U.S. territory of Puerto Rico, tweeting that "they want everything done for them when it should be a community effort."
The president, who has been criticized for his administration's response to the disaster, also took issue with media coverage of the crisis, writing that the "Fake News" had been treating him unfairly and were going out of their way to "get Trump."
The stunning early morning rant came a day after San Juan Mayor Carmen Yulín Cruz slammed the federal response to the crisis as inadequate during a press conference.
"I am done being polite. I am done being politically correct," Cruz said. "I am mad as hell."
Governor Ricardo Rossello also said on MSNBC Friday that the response was "still not where it needs to be."
In his tweets Saturday, Trump accused Cruz and others of "poor leadership" and Democrats of telling them to be "nasty to Trump."
But his administration has been facing scrutiny for its response since Hurricane Maria devastated the island. Trump, in particular, has been criticized for comments implying that Puerto Rico was in a crisis of its own making.
In recent days, he has also suggested that Puerto Rico may end up on the hook for its rebuilding efforts, saying Friday that the territory's government "will have to work with us to determine how this massive rebuilding effort — it will end up being one of the biggest ever — will be funded and organized, and what we will do with the tremendous amount of existing debt already on the island."
Through it all, though, he's insisted that his administration was doing an "amazing job" and bragged about the compliments he was receiving from local leadership.
Trump's attacks on those leaders Saturday were met with immediate backlash, with many defending the San Juan mayor's hurricane response.
Cruz did not respond directly to Trump's attack, but tweeted that "the goal is one: saving lives."
"This is the time to show our 'true colors,'" Cruz wrote. "We cannot be distracted by anything else."
Sept. 30, 2017, 10:00 a.m.: This story has been updated.