OJ Simpson could be released from prison as early as Sunday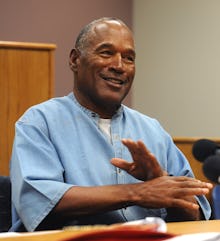 O.J. Simpson could be released from prison as early as this weekend, multiple outlets are reporting.
Simpson — the former NFL star who in the 1990s was acquitted of murder in one of the most publicized trials in history — was granted parole in July after serving nine years in prison for a 2007 armed robbery and kidnapping.
In that incident, Simpson and several associates entered a Las Vegas hotel room in an attempt to obtain memorabilia he claimed had been stolen. Simpson was charged with 12 counts, including three counts of conspiracy; one count of burglary with use of a deadly weapon; and two counts each of kidnapping, robbery, assault and coercion with a deadly weapon.
During his parole hearing in July, Simpson seemed to maintain that he hadn't done anything wrong, claiming he had "basically lived a conflict-free life." But his daughter, Arnelle, and one of the victims of his 2007 robbery, Bruce Fromong, each testified on Simpson's behalf, and the Nevada Board of Parole ruled in his favor.
Simpson eligible for release Sunday
Of course, Simpson's life has been anything but "conflict-free."
In 1994, the former running back and actor was accused of murdering his ex-wife, Nicole Brown Simpson, and her friend Ron Goldman. He was acquitted of the murders the following year in what would come to be known as the "trial of the century"— a case that continues to reverberate through the American cultural landscape decades later.
Simpson will become eligible for release on Sunday, but it is not yet clear when he will be freed. Malcolm LaVergne, Simpson's attorney, told the Los Angeles Times that he and his client were prepared to wait until Oct. 6 for the release.
"I can tell from his voice on the phone last night that he's looking forward to freedom and hugging his family on the outside," LaVergne said. "[The] Department of Corrections has been so good to Simpson and me that I won't question their judgment unless this isn't resolved by next Friday."
The 70-year-old will "focus on kids, friends, his family and golf" following his release, a longtime friend of "the Juice" told CNN. He will live in a gated community in a suburb of Las Vegas, but will not "hide" from the public, the friend said.
It's not clear how long Simpson intends to stay in Nevada. He has indicated that he wants to move to Florida, but that state's attorney general, Pam Bondi, said in a letter Friday that he is unwelcome there.
"Floridians are well aware of Mr. Simpson's background, his wanton disregard for the lives of others, and of his scofflaw attitude with respect to the heinous acts for which he has been found civilly liable," Bondi wrote to the Florida Department of Corrections. "Our state should not become a country club for this convicted criminal."