Trump administration continues to attack Puerto Rico, media amid widespread backlash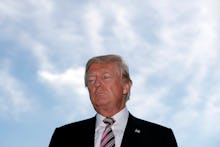 The White House continued to attack leadership in Puerto Rico and the media following an early morning Twitter rant by President Donald Trump in which he said the storm-devastated United States territory wants "everything to be done for them."
His administration doubled down on Trump's tweets Saturday, with White House press secretary Sarah Huckabee Sanders defending the president's complaints that he is being treated unfairly by the media.
White House social media director Dan Scavino Jr. took it a step further, attacking the character of San Juan Mayor Carmen Yulín Cruz, who on Friday criticized the federal response to Hurricane Maria.
"[Donald Trump] hater ... is the perfect example of an opportunistic politician," Scavino wrote of Cruz.
But Trump's comments — stunning even by his standards — were immediately met with an intense wave of backlash, including from some conservatives.
"It should matter to all of us though that the president is so willing to get in the mud and fight back when the mayor and everyone else in Puerto Rico need our empathy and compassion," conservative pundit Erick Erickson wrote Saturday. "Sometimes the president just does not need to dial up the jackass and sometimes he does not need to be defended."
Retired Lt. General Russel Honoré, who oversaw the U.S. military response to Hurricane Katrina, jabbed Trump on CNN Saturday.
"The mayor's living on a cot, and I hope the president has a good day at golf," Honoré said
Trump was also called out Saturday by his opponents on the Hill, with many slamming him for attacking Cruz while spending the day at his private New Jersey golf club as she wades in chest-deep water to help her citizens.
In his tweetstorm early Saturday, Trump complained that the media was out to "get Trump" in their coverage of the administration's response and that Cruz had been "told by the Democrats that you must be nasty to Trump."
Cruz responded to the president's attack later Saturday, telling MSNBC that she has "no time for distractions."
"I will continue to do whatever I have to do, say whatever I have to say, compliment the people I need to compliment and call out the people I need to call out," Cruz said. "This isn't about me. This isn't about anyone. This is about lives that are being lost if things do not get done properly real quickly."