This week in Trump-Russia news: Robert Mueller has begun interviewing White House staff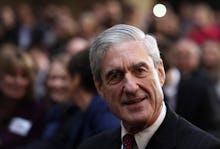 Earlier this month, it was reported that special counsel Robert Mueller has been seeking interviews with current and former White House staffers as part of his investigation into President Donald Trump's ties to Russia.
That interview process has apparently begun, according to a Fox News report Friday.
Here's what you need to know about Mueller's recent moves and other key developments in the ongoing Trump-Russia saga this week.
Mueller questions former NSA chief on Flynn
Mueller's investigators questioned retired Lt. Gen. Keith Kellogg, chief of staff for the National Security Council, about Michael Flynn on Thursday, sources told Fox News.
Flynn, who served as Trump's national security adviser for less than a month before being forced to resign in scandal, has long been a key focus of the Russia probes.
According to Fox, it was Flynn who brought Kellogg onto Trump's transition team.
In the same report, Fox said that Mueller — along with congressional investigators — is also looking into a March 2016 national security meeting at what is currently Trump International Hotel in Washington, D.C., where a junior staffer is said to have suggested meeting with Kremlin officials to discuss improving relations between the United States and Russia.
More details emerge on Russia's social media meddling
Facebook and Twitter have each faced increasing scrutiny in recent days amid reports that Russia seemed to have used the sites to meddle in the 2016 U.S. election.
Facebook recently revealed that a Russian troll farm had purchased $100,000 in advertising on the social media platform.
That $100,000, Politico reported Tuesday, apparently went to ads targeting Democrat Hillary Clinton and promoting her liberal rivals, Bernie Sanders and Jill Stein, as well as Trump, her opponent in the general election.
The site is now sharing data with Google, which will be briefing U.S. officials in the next few weeks.
Meanwhile, Twitter — which met with both the House and Senate intelligence committees on Thursday — has been busy suspending two hundred accounts it has determined to be linked to Russian election interference efforts.
But Sen. Mark Warner (D-Va.), vice chair of the Senate Intelligence Committee, said he was "deeply disappointed" in the testimony Twitter gave, saying Thursday that he "[doesn't] think they understand how serious this problem is."
Mueller and IRS join forces
Mueller has been provided information on top Trump officials, including Flynn and former campaign chairman Paul Manafort, from the criminal investigation division of the IRS, CNN reported Tuesday.
The IRS had been investigating Manafort for potential fraud and money laundering charges prior to the election.
Manafort has increasingly appeared to be in serious legal jeopardy recently. In late July, federal agents working for Mueller raided his Virginia home and apparently warned him of a coming indictment. He was also revealed last week to have written to a Russian billionaire with ties to Vladimir Putin, offering to brief him on the Trump campaign.
That Mueller is receiving information from the IRS is probably not great news for Manafort and Flynn. But it also raises questions about whether Mueller has or will obtain Trump's tax returns, which he has not released in a break with longstanding tradition.
Trump said in July that he would consider it a "violation" if Mueller looks into his or his families finances and suggested he would attempt to oust him if he did.
Senators seek action on bills to protect Mueller
The senators behind two bipartisan bills seeking to protect Mueller from Trump are pushing for quick action, they indicated this week.
In early August, Sens. Lindsey Graham (R-S.C.) and Cory Booker (D-N.J.) introduced legislation prohibiting the president from firing the special counsel without judicial oversight. At the same time, Sens. Thom Tillis (R-N.C.) and Christopher Coons (D-Del.) introduced a bill allowing a special counsel to contest their termination.
The two bills came up for hearing in the Senate Judiciary Committee on Tuesday, during which Chairman Chuck Grassley (R-Iowa) indicated he was unsure if he would support either measure. Other senators, including Richard Blumenthal (D-Conn.), said they were less fearful now than they had been during the summer that Trump would attempt to fire Mueller.
But in a CNN op-ed Tuesday, Booker wrote that Congress must "act decisively" to prevent "a constitutional crisis triggered by presidential abuse of power" as Mueller's probe into Trump continues to accelerate.
"It is imperative that Congress follow Tuesday's hearing with swift action to pass legislation to safeguard Mueller's ability to do his job effectively and to free him from retaliation from the president so that the system of checks and balances and separation of powers can continue to guarantee our democratic stability," Booker wrote. "It's time to pass a law that protects both special counsel Mueller and the integrity of our democratic system."