After Trump praised himself for his Puerto Rico response, he blasted his critics as "ingrates"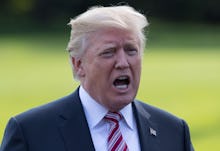 President Donald Trump began his Sunday morning by tweeting praise for his administration's response to the devastation in Puerto Rico — all while chastising his critics, calling them "politically motivated ingrates."
"We have done a great job with the almost impossible situation in Puerto Rico. Outside of the fake news or politically motivated ingrates," Trump tweeted. "People are now starting to recognize the amazing work that has been done by FEMA and our great military. All buildings now inspected for safety."
In his final tweet on the matter, Trump praised those working on the island to help those afflicted by the storm — with one conspicuous absence: Carmen Yulín Cruz, the mayor of San Juan with whom he clashed Saturday.
"Thank you to the Governor of PR and to all of those who are working so closely with our first responders. Fantastic job!" Trump tweeted, excluding Cruz from his praise.
The clash between Trump and Cruz began Saturday, when the president lashed out at the mayor for criticizing his administration's response to the damage caused by Hurricane Maria.
In a morning tweetstorm, Trump suggested that Cruz's cry for help from Washington was a partisan operation aimed at making him look bad.
"The mayor of San Juan, who was very complimentary only a few days ago, has now been told by the Democrats that you must be nasty to Trump," the president alleged without any apparent evidence.
Blasting Cruz's "poor leadership," Trump suggested San Juan's municipal government had failed to help its people through Maria's aftermath.
"Such poor leadership ability by the mayor of San Juan and others in Puerto Rico, who are not able to get their workers to help," Trump said. "They want everything to be done for them when it should be a community effort."
The president's Saturday morning invective was likely a response to strong remarks made by Cruz at a press conference the evening prior.
Speaking in front of pallets of baby food and water, Cruz said Washington was "killing" the people of Puerto Rico with "inefficiency and ... bureaucracy."
"We are dying, and you are killing us with the inefficiency and the bureaucracy," Cruz said Friday. "I am done being polite. I am done being politically correct. I am mad as hell."
Twitter was quick to defend Cruz's response to the storm.
Though the clash between Cruz and Trump has dominated headlines since the president first took aim at her, the crisis in Puerto Rico remains an important story. The storm is believed to have claimed at least 16 lives on the island, and experts say the death toll will likely reach into the hundreds. Ninety-one percent of the island is without cell phone service. Almost two million of the island's residents are still without water.
Trump is expected to visit Puerto Rico on Tuesday.