Catalan officials say vast majority voted for independence amidst violent clash with riot police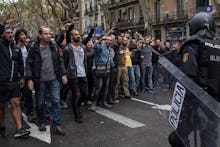 The government of Catalonia, a region of Spain, declared a resounding victory in Sunday's contentious referendum on Catalan independence.
"Out of the 2,262,424 ballots that were not seized [by Spanish riot police attempting to stop the referendum], 2,020,144 were YES votes [to become independent], 176,566 were NO votes," the regional government announced on its official Twitter feed.
Carles Puigdemont, President of the Generalitat of Catalonia, praised the Catalan people for overwhelmingly voting for independence.
"With this day of hope and suffering, the citizens of Catalonia have won the right to an independent state in the form a republic," Puigdemont said, according to BBC. "My government, in the next few days will send the results of today's vote to the Catalan parliament, where the sovereignty of our people lies, so that it can act in accordance with the law of the referendum."
Clashes between police and protesters broke out Sunday as the Spanish National Police attempted to quash the Catalonia region's referendum on independence, injuring over 800 Catalan voters and protesters.
Those voters went to the polls Sunday to participate in a vote for independence that the Spanish government has deemed illegal. The northeastern region of Spain, which includes Barcelona and houses 7.5 million people, is responsible for 20% of Spain's economic output and has its own distinctive language and culture, Al Jazeera noted.
Pro-independence residents of the "autonomous community" say that the region provides more financial support to the Spanish government in Madrid than it receives in return. This is the second referendum on the question of Catalan independence, after a non-binding, unofficial vote in 2014.
"I have come to vote to defend the rights of my country, which is Catalonia," 73-year-old retiree Joaquim Bosch told the Associated Press. "I vote because of the mistreatment of Catalonia by Spain for many years."
According to the Guardian, 60% of Catalonia's 5.3 million eligible voters were expected to turn out to Sunday's vote. According to Catalan officials, turnout was 42.3%, with the violence from riot police likely contributing to the discrepancy.
Although over 70% of the population is in favor of the referendum, however, their opinions on independence seemed much more divided leading up to the vote. Surveys conducted two months ago cited by the Guardian reveal that 49.4% of voters were in favor of remaining part of Spain, while 41.1% backed independence.
The Spanish government has been working to prevent the vote from taking place, saying that the referendum would be illegal as Spain's 1978 constitution has no provisions for votes on self-determination. The Guardian reported the Spanish government has not only conducted raids and seized ballot papers, polling station signs and documents for electoral officials in the run-up to the election, but also limited the Catalan government's finances and sealed off 1,300 of Catalonia's 2,315 polling locations. The government also dismantled the technology to count the votes and vote online, according to the AP.
"These last-minute operations have allowed us to very definitively break up any possibility of the Catalan government delivering what it promised: a binding, effective referendum with legal guarantees," Enric Millo, the Spanish government's senior representative in Catalonia, said Saturday, as quoted by the Guardian.
"That's what the Catalan government had promised to deliver on 1 October. Today, we can assure people that it will not go ahead."
When voters showed up to defy the government and vote Sunday, camping out for days in polling locations to avoid having them shut down by the government, Spanish National Police fought back. Police burst into polling places, breaking down doors to forcibly remove voters and seize ballot boxes, the AP reported.
"We were waiting inside to vote when the National Police used force to enter, they used a mace to break in the glass door and they took everything," Barcelona voter Daniel Riano told the AP, adding that "one policeman put me in a headlock to drag me out, while I was holding my wife's hand.
"It was incredible. They didn't give any warning," Riano continued.
Police fired rubber bullets at Catalans during the scuffle, the AP noted, and the Catalan government reported that 844 people had been injured as a result of the police violence. The police have also been captured on video attacking Catalan firefighters who protected voters.
The Spanish government's Interior Ministry also posted a video showing protesters throwing rocks at police vehicles in return, and according to NBC News, the government agency reported that nine officers and two civil guards had been injured.
Nevertheless, voting continued in many locations despite the ongoing police presence. Catalonian government spokesman Jordi Turull said that 96% of polling locations remained open as of 2:00 p.m. local time, NBC News reported, with some left unhindered by police interference.
World leaders and politicians have spoken out against the Spanish government's violent response to Sunday's referendum. Belgian Prime Minister Charles Michel called for "political dialogue" instead of violence on Twitter, while Scottish National Party leader Nicola Sturgeon wrote "we should all condemn the scenes being witnessed and call on Spain to change course before someone is seriously hurt."
"Let the people vote peacefully," Sturgeon continued.
October 1, 2017 7:20 p.m.: This story has been updated.
Anthony Smith contributed to this report.