Gov. John Kasich: If the GOP can't be fixed, I won't be able to support the GOP.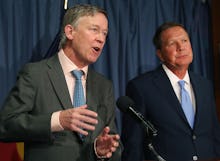 At a Sunday morning appearance on CNN's State of the Union, Republican Governor John Kasich of Ohio suggested that a time may come when he would no longer be able to support the Republican party.
"There is a struggle for the soul of the Republican Party," Kasich said to host Jake Tapper when he was asked if the bigoted views of Judge Roy Moore, winner of the Alabama Republican Senate primary, represented the future of the Grand Old Party. "If that's where we're headed ... if the party can't be fixed, Jake then I am not going to be able to support the party. Period. That's the end of it."
When Tapper pressed Kasich on whether that meant he was considering leaving the Republican party and becoming an independent, the Ohio governor demurred, saying he would spend his time fighting to "straighten out" the party and the country. However, he mentioned that the American people were getting tired of both the Republican and Democratic parties.
"People are beginning to say, 'I don't like either [party] — and that says something big," Kasich said.
Kasich's remarks come amid reports that the Ohio governor, who lost the 2016 Republican primary to future president Donald Trump, is mulling a 2020 bid for the White House as an independent candidate. According to CNN, which spoke to a single source familiar with the matter, Kasich and Democratic Governor John Hickenlooper of Colorado may run on a unity ticket as a challenge to both major political parties.
"The idea of a joint ticket has been discussed, but not at an organizational or planning level," the source said. "What they are trying to show the country is that honorable people can disagree, but you can still problem solve together. It happens in businesses and it happens in families. Why can't it happen in Washington?"