Trump tweets against Tillerson's push for diplomacy with North Korea: "We'll do what has to be done"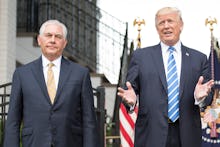 President Donald Trump tweeted Sunday that Secretary of State Rex Tillerson was "wasting his time" trying for a diplomatic response with North Korea, once again labeling the country's leader Kim Jong Un as "Rocket Man."
"I told Rex Tillerson, our wonderful Secretary of State, that he is wasting his time trying to negotiate with little Rocket Man," Trump tweeted.
"Save your energy Rex, we'll do what has to be done!" the president continued.
Trump's tweets come one day after Tillerson traveled to China amid the escalating tensions between the U.S. and North Korea. Tillerson revealed there that the U.S. and North Korea had established direct lines of communication with each other and hinted that he was trying for a diplomatic solution with the isolationist nation.
"We are probing, so stay tuned," Tillerson said in Beijing about North Korea, as quoted by Reuters, adding, "We can talk to them. We do talk to them."
"We ask: 'Would you like to talk?' We have lines of communications to Pyongyang. We're not in a dark situation, a blackout," Tillerson continued.
Trump's Twitter response shows the president is not backing down from his desire for military action with North Korea, revealing a rift in his administration over how best to proceed. While Tillerson is advocating for diplomacy, Trump's view is seemingly shared by Sec. of Defense Jim Mattis, who warned in September that the U.S. had options to ensure the "total annihilation of a country."
"Any threat to the United States or its territories, including Guam, or our allies will be met with a massive military response, a response both effective and overwhelming," Mattis said about North Korea on Sept. 3.
The president has long used Twitter to espouse his rhetoric against North Korea and hint at potential military action. Most recently, the North Korean government considered one of Trump's tweets to be a declaration of war after the president said on Twitter that if the foreign minister of North Korea "echoes thoughts of little Rocket Man, they won't be around much longer!"
Trump's views, however, don't represent those of his constituents. In a Fox News poll released Sept. 27, only 23% said they supported potential military action with North Korea, while 61% preferred a diplomatic response.
Even more unpopular, however, are the president's frequent Twitter outbursts against North Korea and "little Rocket Man." According to the Fox News poll, 70% of respondents disapprove of Trump's rhetoric against North Korea, calling it "unhelpful."