Photos show what week 2 of NFL protests looks like versus what week 1 looked like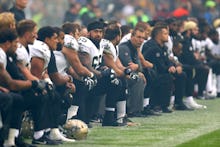 At a Friday night rally in September, President Donald Trump chastised what was then only a handful of National Football League players protesting white supremacy and the unpunished police killings of black Americans.
But in challenging those few athletes to defy him, Trump ended up adding to their ranks, inciting a week of unprecedented, wide-scale protest from many NFL players, coaches and team owners.
As the league enters the second week of those protests, Trump shows no signs of relenting, imploring athletes to stand for the national anthem in a Saturday evening tweet.
But whereas the president shows no signs of stopping, on Sunday, the acts of protest in the NFL were decidedly smaller in scale.
Here's what those protests look like so far, compared to the previous week — updated as the week continues.
New Orleans Saints
In their Sunday game in London against the Miami Dolphins, the New Orleans Saints kneeled in protest prior to the playing of "The Star-Spangled Banner."
In the week prior, 10 Saints players sat on the bench while the national anthem played.
Miami Dolphins
In their Sunday game in London against the New Orleans Saints, three players from the Miami Dolphins — Kenny Stills, Michael Thomas and Julius Thomas — kneeled during the national anthem.
The previous week, four players kneeled.
Jacksonville Jaguars
In their game against the New York Jets, the Jacksonville Jaguars all kneeled before the national anthem played — but ended up standing for the anthem itself.
In the week prior, the athletes were joined by coach Doug Marrone and team owner Shahid Khan.
Cleveland Browns
No members of the Cleveland Browns kneeled during the national anthem before the team's game against the Cincinnati Bengals, but the New York Times noted that nine players — Christian Kirksey, Jason McCourty, Randall Telfer, Isaiah Crowell, Briean Boddy-Calhoun, Larry Ogunjobi, Kenny Britt, Dominique Alexander and Ibraheim Campbell — raised their fists into the air while the anthem was played.
The previous Sunday, around 20 players from the team kneeled as the song was played.
Detroit Lions
As the anthem played before their game against the Minnesota Vikings, Jalen Reeves-Maybin and Steve Longa of the Detroit Lions took a knee in protest.
The previous week, eight players from the Lions kneeled as the anthem played.
Atlanta Falcons
On Sunday, all of Atlanta's players stood, some linking arms, prior to their game against the Buffalo Bills.
The week prior, Grady Jarrett and Dontari Poe took a knee.
Correction: Oct. 2, 2017