Stephen Paddock, 64, identified as suspect in deadly Las Vegas shooting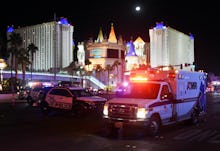 At least 58 people are dead and more than 500 are injured after a lone white gunman, identified as Stephen Paddock, opened fire on a crowded stretch of the Las Vegas strip Sunday night.
According to NBC News and others, the 64-year-old Mesquite, Nevada, resident is responsible for what is being called the deadliest mass shooting in modern U.S. history.
Paddock was reportedly discovered on the 32nd floor of the Mandalay Bay Resort and Casino, where he is thought to have been staying as a guest. He took aim at a crowd of people streaming out of the Route 91 Harvest Music Festival, a country music event where Jason Aldean had just performed.
Police have also located 62-year-old Marilou Danley, who is thought to have been a traveling companion of Paddock's. According to local outlet KTNV, Las Vegas police do not believe that Danley was involved in the deadly attack.
Clark County Sheriff Joseph Lombardo confirmed to the Associated Press that Paddock is dead. In a press release, the Las Vegas Metropolitan Police Department revealed that the department's SWAT team found him dead when they "breached the hotel room."
On Monday morning, President Donald Trump extended his thoughts to the grieving families of the shooting victims, offering "warmest condolences and sympathies" on Twitter.
According to a White House official who spoke to CNN, the president's scheduled trip to hurricane-ravaged Puerto Rico on Tuesday is currently under review in the wake of the shooting.
Oct. 2, 2017, 11:45 a.m.: This story has been updated.