Meet Ilaria Urbinati, the woman dressing all of your internet boyfriends for the red carpet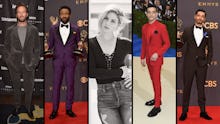 Red carpets used to be a place where all of our attention focused on the women. Who designed that gown for Gwyneth Paltrow? What's Cate Blanchett wearing? Who's that on Taraji P. Henson?
But that was before Ilaria Urbinati got to flex her styling prowess on men like Rami Malek, Riz Ahmed and Donald Glover, who undoubtedly light up any red carpet they step on today.
It's Urbinati who was behind Glover's purple Gucci suit at the 2017 Emmys, an outfit that caused the New York Times to label Glover as the "the only dressed man in Hollywood."
"Put a man in a splendid royal purple suit and there's nowhere to hide," the Times' Choire Sicha mused. "The confidence is impeccable."
And it's Urbinati behind every daring look on Malek, who has long strayed from the plain black suit. Just check him out here, sporting an all-red ensemble at the 2017 Met Gala.
"I only half-jokingly refer to him as my muse," Urbinati said in an email interview with Mic. "We really have a great connection and get each other. He is so adventurous and bold and understands that fashion is meant to be fun and explored. And that we won't be this young forever, so [we] might as well take risks now. We have a lot of these kinds of conversations — we really get into it. He is always willing to try new looks before anyone else. That kind of approach is the reason why he gets so much attention for his looks. He's just having fun."
Growing up among stacks of Vogue Italia — in a house in which she says fashion photographers like Richard Avedon, Irving Penn and Steven Meisel were revered — Urbinati's love of fashion came naturally.
Urbinati's first fashion jobs were in retail, which eventually led to her becoming a buyer at a Los Angeles boutique. It was there Urbinati found her talent. An actress from The L Word came in — asking for Urbinati's styling skills for Eric Lively, one of the show's lone male characters — and an extraordinary career was born.
"He was wearing brands like Maison Margiela and Comme Des Garçons that no guy on TV was wearing then," Urbinati said. "That's when I realized I had a knack for dressing men."
With menswear a solidified passion, Urbinati opened her own uber-chic menswear store in 2008 in Los Angeles — called Confederacy — with actor Danny Masterson, which put her on the path to meeting Bradley Cooper. The Hollywood A-lister asked her to help find him clothes to wear for The Hangover's press circuit. Urbinati still styles him to this day.
"I had some friends, like the photographer James Gooding and Kashy Khaledi, who was the editor of the awesome Mean magazine at the time," Urbinati said. "They started hiring me to style guys like James McAvoy, Emile Hirsch and so on, for editorials and covers. It all kind of went from there."
Currently, Urbinati's regular male clients includes the likes of Glover, Malek, Ahmed, Tom Hiddleston, Chris Evans, Joel Edgerton and Armie Hammer, turning on its head the idea that a man at a fancy event has to wear a black tux.
It isn't just men Urbinati helps shine, of course. She's got female clients, too, including Jenny Slate, Shailene Woodley, Nina Dobrev and Krysten Ritter.
And that, for a stylist, demands a bit of a balancing act — dressing a female celebrity and a male celebrity are starkly different.
"The politics for dressing women affect everything in a way that styling men doesn't," Urbinati said. "For a girl, it's all about getting your hands on the best dresses and there's just so many politics that go into that. Maybe I want that dress for a client, but then sometimes the brand won't loan it to that particular girl, or if they do want to, then maybe it's stuck at Vogue and they can't get it back for the fitting ... it just goes on. The odds are so stacked against you being able to get your hands on a dress that it becomes so much less about taste than just playing that game."
While styling women can be an entirely exhausting process, it's pretty straightforward for Urbinati when it comes to her male clients.
"With men, it really is way more about my taste and how I can put things together. And for the most part, if I want something, the brand will just send me into the store to get it," Urbinati said. "As for the actual styling with men, it's all in the details and the colors. Color combos are really my strong suit."
Indeed, what's set many of Urbinati's male clients apart is they regularly embrace color. Malek attended the Met Gala in that bright red Dior suit and can pull off something like an olive green suit with ease. Hammer can look good in brown velvet just as he can in gray corduroy.
Glover can pull off, well, anything.
"Honestly, [Glover] brings so much to the table on his own because he is just so cool and has such an inherent sense of his own style," Urbinati said.
At this point, if you see a male celebrity wearing something bolder than a basic black tuxedo with a particular sense of confidence in his stride, chances are high that Urbinati is behind the look.