With Helen Mirren and Winnie Harlow, L'Oréal's first fashion show was an ode to diverse beauty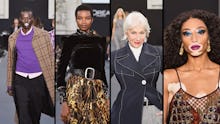 Rarely do you get a fashion show during Paris Fashion Week where 72- and 79-year-old actresses get to strut alongside trailblazing and in-demand models like Adwoa Aboah, Valentina Sampaio and Winnie Harlow.
But on Sunday, we were blessed.
At the Le Défilé L'Oréal Paris runway show ("défilé" means "parade" in French), which was L'Oréal's first-ever fashion show, beauty of all different sorts was the focus.
So Jane Fonda, 79, took to the stage, in a tight, tiger-print dress...
And Helen Mirren, 72, with a jaunty little cane and wide-legged trousers, did too.
Other models who joined the 70-person cast were supermodels Adwoa Aboah, who famously shaves her head, and Maria Borges, who famously brought natural hair to the Victoria's Secret Fashion Show for the first time.
Then there was Valentina Sampaio, who made history earlier this year as the first transgender model to grace a cover of Vogue.
Iskra Lawrence, the curve model made famous from her multiple ads with Aerie, walked.
And Winnie Harlow, the hugely successful model who has vitiligo, did, too.
Even Grace Bol, a legend unto herself, made an appearance.
It wasn't just women on this runway, either. With the show broken down by makeup themes — including "arty beauty," "street grrrl" and "girl boss" — guys were able to get into the action, too.
So model Alpha Dia wore a bold lip.
While model Vincent LaCrocq and YouTuber Marcus Butler wore more natural makeup.
With so many trailblazers and inspirations on one runway, it's almost enough to make your head spin. Is this the future of beauty according to L'Oréal, with men, women with vitiligo, older women and even darker-skinned women all being celebrated?
Well, you might think that, but there is one glaring problem that we saw. For a show meant to showcase beauty and makeup, with no less than L'Oréal Paris' global makeup director, Val Garland, in charge of it all, we have a question: Why so little love for plus-size models?
Odd as it may seem, makeup still remains one of the major frontiers in the fashion and beauty industry where plus-size models are shut out. Although we did get Iskra Lawrence, she is quite small for a plus model herself, and given the millions and millions of women who are a size 14 or larger (the average American woman is plus-sized), having only her to represent a different shape at the show felt like a missed opportunity.
Mic has reached out to L'Oréal Paris for further comment.