This week, Donald Trump faces tragedies in Puerto Rico and Las Vegas. How will he respond?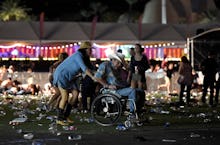 Welcome to Mic's daily read on Donald Trump's America. Want to receive this as a daily email in your inbox? Subscribe here.
Every day, we bring you a different dispatch on Trump's America's. Today's focus: American tragedy.
Monday's Dispatch: Trump faces tragedy
Unprecedented hurricane devastation to a U.S. territory. The deadliest mass shooting in modern U.S. history.
President Donald Trump now leads a country that went into Sunday night deeply concerned about the recovery in Puerto Rico. By Monday morning, it was a nation also gripped by news of at least 50 people killed by a mass shooter in Las Vegas.
Trump tweeted "my warmest condolences and sympathies" to those impacted by the mass shooting. Officials said Stephen Paddock, a 64-year-old white man, drove from Mesquite, Nevada, to Las Vegas before heading to the 32nd floor of the high-rise Mandalay Bay Resort and Casino. Paddock shot into a crowd of 30,000 people watching country singer Jason Aldean during the final night of the Route 91 Harvest concert.
Videos from the early morning shooting showed people moving between lying on the ground and running as bullets were shot into the crowd. At least 50 people were killed and 200 wounded in the deadliest mass shooting in modern U.S. history.
Trump may not travel to Puerto Rico in the wake of the shooting. He was scheduled to survey hurricane damage there on Tuesday.
Trump largely faced criticism over the weekend for his handling of efforts to help the U.S. citizens of Puerto Rico. He first suggested Puerto Rico should have to pay for its own recovery. Then, he accused San Juan Mayor Carmen Yulín Cruz, who declared her residents were "dying" because of a lack of electricity, water and food, of showing "poor leadership." Trump also said "Puerto Rico was totally destroyed," though FEMA and the military are doing everything possible to help residents.
Cruz responded by saying she has "no time for distractions." Administration officials doubled down in their support of Trump, but conservatives and liberals alike blasted him for critiquing Cruz.
Here's a timeline of Trump's comments on Puerto Rico. And the top general overseeing relief efforts said the damage was "the worst I've ever seen."
Today's question: Will the nation's response to this mass shooting be any different than it has in the past? Please email us at trumpsamerica@mic.com with your thoughts.
This week in Trump's America:
We'll be watching further developments of the Las Vegas shooting and continued recovery efforts in Puerto Rico.
Immediate questions: Will the shooting jump-start long stalled attempts at gun reform on Capitol Hill? (Note that shootings in Orlando, Florida, and Newtown, Connecticut, to name two, were not successful.) And will Congress take up a disaster relief bill for Puerto Rico, similar to the one passed after Hurricane Harvey hit Texas?
Of note: Huge debris piles remain outside homes impacted a month ago by Harvey. And the Texas official appointed to oversee the recovery efforts said insurance companies need to "write a damn check."
Tom Price resigned Friday as health and human services secretary, following reports he billed taxpayers more than $1 million for charter and military flights. Here's a list of Trump administration officials who have resigned so far. Seema Verma, the head of the Centers for Medicare and Medicaid, is a top candidate to replace Price. Verma helped shepherd health care legislation through the House and has been a proponent of major reforms, including cuts, to Medicaid.
Rep. Al Green (D-Texas) says he will introduce a resolution this week to impeach Trump. It has very little chance of advancing.
Special counsel Robert Mueller began speaking with White House staffers this week. Those interviews, and measures to protect Mueller, will pick up steam this week. More on that, and a host of other Trump-Russia investigation updates, can be found here.
Facebook will turn over 3,000 ads bought by Russian operatives to lawmakers. Capitol Hill staff will begin reviewing the ads that were aimed at influencing the U.S. election.
Last week, the Trump administration delayed implementing a rule that would punish drug companies for price gouging vulnerable Americans — breaking a core campaign pledge.
Congress let funding for the Children's Health Insurance Program expire on Friday. They don't have long to renew it.
For a second week, some NFL players continued to kneel during the national anthem. The next NFL game is Monday night between the Washington Redskins and Kansas City Chiefs.
Trouble for tax reform? The GOP wants to pass a 20% corporate tax rate — but that would increase the federal deficit by trillions of dollars in the next few decades.
Spanish riot police arrested and beat up hundreds of people attempting to vote in a referendum on independence in the Catalonia region of Spain. Officials said the vast majority of people in Catalonia, a region dominated by Barcelona, voted for independence. Watch for a response from the European Union to the violence by police as they attempted to close down voting centers.
Congress will vote on a 20-week abortion ban this week. It may pass the House.
Trump told Secretary of State Rex Tillerson that he is "wasting his time" trying to negotiate with North Korea. The U.S. will "do what has to be done!" Trump added.
Today's MicBite:
Who will benefit the most from Trump's proposed tax plan? The Trumps. Tap or click below to watch the video.