Far-right tried to frame Rachel Maddow fan for Las Vegas shooting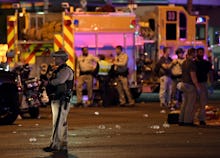 In the aftermath of the mass shooting at a country music festival in Las Vegas Sunday night, far-right media pushed a hoax story falsely identifying someone else as the suspected shooter.
The person who police have really identified as being the suspected shooter is Stephen Paddock, a 64-year-old from nearby Mesquite, Nevada, who was found dead in his hotel room when police arrived.
Before police named Paddock as the suspected shooter, though, far-right trolls circulated the hoax that the person being sought by police was another man named Geary Danley. Those claims were eventually circulated by right-wing media, which spread quickly on Facebook and Twitter.
Danley's name presumably came up because he was Facebook friends with Marilou Danley, a woman who police named as a person of interest in the early morning hours. (Marilou Danley, who is not suspected of being involved in the attack, has since been located by police and is no longer a person of interest.)
But far-right trolls found Geary Danley's Facebook page and began saying that he was the suspected shooter despite no evidence. That claim eventually made its way to an article on the right-wing conspiracy site Gateway Pundit in a post that has since been taken down. It also circulated on right-wing hoax news sites like USSA News and Dailey Alt News. (Dailey Alt News has since retracted its false report, and USSA News' post has been updated to wipe references to Geary Danley.)
But as of 9 a.m. Monday, Google searches of Danley's name continued to direct users to far-right conspiracy sites. On Facebook and on Twitter, Danley's name also results in a number of fake news posts falsely identifying him as the shooter.
The attempt to frame Danley for the shooting is one of several hoaxes and fake news reports that have circulated in the aftermath of the shooting. Geary Danley in particular was framed as a suspected shooter sheds some light on the political motivations that drives the false media narrative from the far-right.
Far-right trolls and the Gateway Pundit both emphasized that Danley had on Facebook liked the liberal MSNBC show host Rachel Maddow and Democratic sites like MoveOn.org and Organizing for Action. Gateway Pundit wrote in the now-deleted post that Danley was part of an "anti-Trump army," in reference to a Facebook group.
Once Paddock was named as the real suspect, new storylines began to emerge attempting to tie Paddock to the far left and to the militant anti-fascist group Antifa, according to BuzzFeed's Ryan Broderick.
Police have not yet released more information about Paddock or his motive.
The shooting Sunday night, which left at least 58 people dead and more than 500 injured, is being called the deadliest mass shooting in modern United States history.
Oct. 2, 2017, 12:09 p.m.: This story has been updated.