461 people have been killed in mass shootings in the US in 2017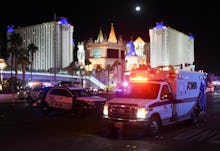 At least 50 people have been killed in the mass shooting at a country music festival in Las Vegas, Nevada, making it the event the deadliest mass shooting in U.S. history.
But the tragic events of Sunday night are far from the only mass shooting deaths to take place in 2017. According to MassShootingTracker.org, there have been 338 mass shootings so far in 2017, including the Las Vegas attack, killing a total of 461 people. A mass shooting is defined here as an attack in which at least four people have been shot in a single event.
In addition to those killed, 1,627 people have been injured in mass shootings in 2017.
Mass shootings that have taken place in 2017 include the shooting at a Congressional baseball practice in June; one in Lincoln County, Mississippi, which killed a deputy sheriff and seven others; and a June shooting at New York's Bronx Lebanon Hospital committed by a former doctor. The Las Vegas tragedy wasn't even the only mass shooting to take place on Sunday, as three people were killed and two were injured during an early-morning shooting in downtown Lawrence, Kansas.
The number of mass shootings has declined slightly compared to this point in 2016, though. According to MassShootingTracker.org, 371 shootings had taken place in 2016 as of Oct. 2, including the Pulse nightclub shooting in Orlando, Florida, and 480 people were killed.
Tracking mass shootings, however, remains an imperfect science, relying on unofficial organizations like MassShootingTracker.org, Mother Jones and the Gun Violence Archive, which says there have been only 273 mass shootings in 2017 under its more narrow definition.
While official research into gun violence was previously conducted by the U.S. Centers for Disease Control and Prevention, it has not been studied since 1996. That was when the National Rifle Association accused the agency of promoting gun control and the Republican-controlled Congress threatened to strip the CDC of its funding if it continued to study gun violence.
Since then — despite former President Barack Obama ordering the agency to resume its research in 2013 following the shooting at an elementary school in Newtown, Connecticut — the agency has maintained a "self-imposed ban" on gun violence research, the Washington Post noted.