Here's where Nevada's members of Congress stand on guns following Las Vegas shooting massacre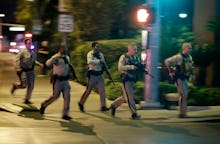 On Sunday night, law enforcement officials say 64-year-old Stephen Paddock killed at least 58 people and wounded at least 500 more in an ambush attack on a country music festival in Las Vegas. The massacre is being called the deadliest mass shooting in modern American history, eclipsing the Pulse nightclub shooting of 2016.
As is often the case in the wake of deadly gun violence in America, politicians were quick to send their thoughts and prayers to the people of Las Vegas and to the friends and family of the victims.
But critics of lawmakers who do nothing more than send "thoughts and prayers" point to the emptiness of the gesture relative to passing sensible gun control that might have actually prevented these mass shootings from happening so frequently.
Here is every Nevada member of congress' record on gun safety.
Republican Sen. Dean Heller
Heller was among the first to offer his condolences to victims of the "senseless, horrifying act of violence" in his state.
In 2013, Heller voted against a measure banning high-capacity ammunition clips. With the Nevada senator's help, the measure failed 46-54.
Democratic Sen. Richard Blumenthal of Connecticut argued that the measure would save lives by limiting the amount of damage that could be done by a mass shooter.
"This amendment would save lives by helping to deprive mass murderers of a key means of massacre," he said before the vote. "Mass shooters know that high-capacity magazines allow them to take more lives, more rapidly."
Republican Sen. Lindsey Graham of South Carolina argued against the measure, maintaining that it did not address the root of the problem.
"One bullet in the hands of a crazy person is too many, which is why I will oppose a magazine limit," Graham said. "At the end of the day the magazine limitation is going to fail because it does not address the problem."
According to On the Issues, a nonpartisan database that tracks lawmakers voting record on key issues, Heller voted in 2011 to allow veterans to register any unlicensed guns they may have acquired on foreign soil. He has received an A-rating from the National Rifle Association, which denotes that he is, in the NRA's eyes, a "solidly pro-gun candidate including voting record."
Democratic Sen. Catherine Cortez Masto
Cortez Masto, the freshman senator from Nevada, also sent her prayers to the victims of the shooting on Twitter. But unlike other Democratic senators, she did not immediately say the tragedy necessitated a congressional solution to prevent more mass shootings.
Since she assumed office in 2017, Cortez Masto has not yet had the chance to vote on a gun safety bill in the Senate. However, the NRA spent $1 million on an attack ad during her campaign that suggested she was an enemy of gun control. The ad did not point to anything in Cortez Masto's record.
Though On the Issues notes that Cortez Masto received a C-rating from the NRA in 2011, an NRA spokesperson would tell the Las Vegas Review-Journal that she received an F rating in 2016.
Americans for Responsible Solutions PAC, a gun-safety political action committee cofounded by former Democratic Rep. Gabrielle Giffords of Arizona, endorsed her for Senate in August 2016.
"Where [Cortez Masto's opponent] Congressman Heck has said he would protect the loopholes that let felons and domestic abusers get guns without a background check, Catherine will be a strong voice in the United States Senate for closing those dangerous loopholes in our laws that put our communities at risk," ARS PAC's endorsement said.
On the Issues page of the website for her Senate campaign, Cortez Masto makes reference to guns twice: First to say that she and her husband are gun owners; second to say that she supports restricting those listed on the no-fly list from being able to purchase guns.
"My husband is a retired Secret Service Agent," the website says. "We are both gun owners. But imagine the lunacy of letting those listed on the terrorist no-fly list to be able to buy guns like the rest of us. That makes no sense."
Democratic Rep. Dina Titus
Titus hails from Nevada's 1st Congressional District, which includes most of Las Vegas. On Monday morning, she tweeted that her office would focus on providing "support for Southern Nevada as we heal and move forward." Like Cortez Masto, Titus eschewed the messaging of others in her party and stopped short of suggesting that gun-safety legislation needed to be passed.
In 2016, Titus joined a sit-in on the House floor demanding that House Speaker Paul Ryan allow fellow representatives to vote on several gun-control measures — including one that would expand background checks.
In a statement on her sit-in, Titus touted "commonsense" reforms for gun safety.
"Like an overwhelming majority of Americans and my Nevada constituents, I support commonsense reforms to our nation's gun laws," she said. "Don't be fooled by the rhetoric from the other side. This is not about legitimate gun ownership. I'm a gun owner. I grew up in the South where guns hang over most mantles. And now I live in the West, where guns are a major part of our culture. This is about taking reasonable, responsible action to make our communities safer."
In 2010, Titus signed a resolution commending the NRA for "[teaching] kids [its] Eddie Eagle GunSafe's lifesaving message," encouraging "educators across the United States to incorporate gun education programs in elementary school curricula."
A 2004 pediatrics study concluded that the NRA's program was "insufficient for teaching gun-safety skills to children."
Republican Rep. Mark Amodei
In a statement, Amodei condemned the "unfathomable evil" of the Las Vegas mass shooting.
"Unfathomable evil," the U.S. rep said. "Attacking harmless people who like listening to music – I don't have the words. Our hearts go out to the victims and families of this terrible tragedy. It's a sad day."
On his website, Amodei notes that Congress needs to find a way to "keep firearms out of the hands of mentally disturbed individuals and criminals" — but argues it cannot do so at the expense of millions of "law-abiding citizens who responsibly exercise their right to bear arms."
In January 2011, Amodei cosponsored a bill to "loosen restrictions on interstate gun purchases." The congressional summary of the bill notes that it allows licensed firearms dealers to "sell or deliver (currently, rifles or shotguns) to a resident of a state other than the state in which the licensee is located or temporarily located if the licensee meets with the purchaser" and "[eliminates] the requirement that a licensee must conduct business at a gun show only in the state that is specified on the licensee's license."
Seven months later, he received an endorsement from the NRA.
Democratic Rep. Jacky Rosen
On Monday morning, Rosen, who is running for Senate, did not immediately suggest a congressional gun-safety solution to prevent mass shootings; however, she did send her thoughts and prayers to the victims and their families.
According to the Issues section of her website, which appears to have been taken down when the site switched from her House campaign to her Senate campaign, Rosen said that she "supports commonsense gun-safety legislation including universal background checks on gun sales, closing the terror loophole and closing gaps that allow domestic abusers to purchase firearms."
When Project Vote Smart Voter Guide surveyed Rosen on gun control, it found that she "generally [supported] gun-control legislation."
Democratic Rep. Ruben Kihuen
On his congressional campaign website, Ruben lamented Congress' inability "to pass any meaningful legislation to curb the epidemic of gun violence" in the years since the Sandy Hook shooting.
But like every other members of United States Congress from his state, Kihuen offered prayers Monday morning — stopping short of immediately suggesting a legislative solution to curbing mass shootings.
While campaigning, Kihuen vowed that, in Congress, he would "ban assault weapons and high-capacity magazines" like the one that, according to the New York Times, audio suggests the Las Vegas shooter may have used on his victims.
Mic will monitor congressional response to the historically gruesome massacre in Nevada, keeping an eye on the lawmakers elected by the people of that state. We will update this article with any developments.