Las Vegas Shooting: Why Smith & Wesson and other gun stocks' prices rise after mass shootings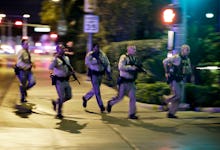 The mass shooting that resulted in the deaths of at least 58 people at a country music festival on Sunday in Las Vegas had one predictable, if unfortunate, consequence: The stock price of American Outdoor Brands (AOBC), formerly Smith & Wesson, rose by more than 7% to $16.35 Monday morning, landing at $15.74 (more than 3% up) by the 4:00 p.m. Eastern close; competitor Sturm Ruger (RGR) was up more than 3%; and ammunition-makers Vista Outdoors (VSTO) and Olin Corporation (OLN) were up more than 2% and 6%, respectively.
At first nod, the jump in stock prices may seem counterintuitive. Politicians often press for tighter gun control laws following mass shootings like the 2015 shooting in San Bernardino, California, the 2012 mass attack at Sandy Hook Elementary School in Newtown, Connecticut, and the 1999 rampage at Columbine High School in Colorado.
Yet because passing stricter gun control laws can take years to enact — thanks to stiff political opposition from conservatives, a powerful gun lobby and the slow place of passing legislation — firearm sales actually tend to increase after big shootings as people stock up in anticipation of stricter rules taking effect. Others may be motivated by fear about a perceived increase in threats to public safety or by a desire to add guns to their collection.
Conversely, the election of President Donald Trump — expected to be friendly to the gun industry — actually weighed on stock prices for firearm companies. The following chart shows the share price performance of Smith & Wesson (now American Outdoor Brands) following mass shootings over the last two years; in each case the stock tended to rise in the days and weeks following the attacks.
In contrast, gun stock prices fell after Trump was elected president in November 2016, as concerns over stricter gun control laws subsided.
Whether the fluctuations in gun stock prices following mass shootings has more to do with perception — or reality — is a matter of debate.
One study of self-reported survey responses from gun owners and non-owners following the 2016 Orlando nightclub shooting suggested "people who are influenced by mass shootings to buy guns are probably an atypical minority" and showed no significant increase in "gun-purchasing intentions."
Then again, stated intentions don't necessarily reflect actions, at least in certain parts of the United States: Handgun purchases increased 53% in California after the Sandy Hook shooting and 41% after the San Bernardino attack, according to a 2017 study in the Annals of Internal Medicine.
The Federal Bureau of Investigation's National Instant Criminal Background Check data suggests background checks for firearms — a proxy for sales —have increased steadily since 1999, after criminal checks became mandatory when purchasing a gun in 1998.
On Monday, President Donald Trump denounced the shooting as an "an act of pure evil" — an "evil" that has become increasingly prevalent in the U.S.: Mass shootings involving nine or more victims continue to grow deadlier and have increased in frequency since 1980.
You might not realize this, but as Mic has previously reported, there's a decent chance you invest in a gun seller if you have a standard 401(k) workplace retirement account: Wal-Mart is the largest seller of guns in the United States and most plans include at least one core S&P 500 fund holding the retail giant.
Oct. 2, 2017, 4:00 p.m.: This story has been updated.
Sign up for The Payoff — your weekly crash course on how to live your best financial life.