No, Sam Hyde is definitely not the Las Vegas shooter. That won't stop his fans from pushing hoax.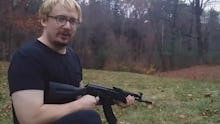 If you followed certain corners of the internet too closely (and were particularly gullible) you may well think that it was Sam Hyde, and not Stephen Paddock, who committed the largest mass shooting in modern U.S. history on Sunday night.
Others certainly did.
Hyde has also been blamed for the police-shooting death of Baton Rouge, Louisiana, man Alton Sterling, along with many massacres, including those that happened at Sandy Hook Elementary School, the Aurora theater and the Pulse nightclub — among countless other atrocities.
It should go without saying: None of it has ever been true.
Hyde is a beloved comedian of the online far right, more specifically the denizens of 4chan, an online image board famous for bigotry and mayhem. And every time there's a mass shooting, his followers dutifully post across all social media platforms that Hyde was the killer.
Hyde rose to fame in the morally darker corners of the internet as a small-time internet comedian, posting awkward public stunts to YouTube. His comedy often panders to the sensibilities of overt racists and anti-Semites, typically under the guise of trolling.
With the rise in the past few years of the so-called "alt-right," Hyde became a staple entertainer for the online right, and made appearances at far-right gatherings, like the in-person trolling of Shia LaBeouf's New York City art installation and a May rally for "free speech" in Boston.
Hyde allegedly donated $5,000 to the legal defense fund of neo-Nazi leader Andrew Anglin.
He briefly had a show on Adult Swim based on his YouTube comedy called Million Dollar Extreme, which was cancelled after one season. Afterward, Hyde went on a press tour claiming his show was cancelled because he supported Trump, as opposed to the shows alleged racism, sexism and myriad forms of indiscriminate bigotry.
Sam Hyde spoke to Mic briefly in 2016, avoiding questions about this ongoing hoax, saying he didn't know when it began, or how 4chan initially discovered him. As with several of his media interviews, his answers were unserious, and he uploaded the interview in full to YouTube.
On Monday morning, Hyde's fans were still tweeting that Sam Hyde "must be stopped," as they do any given week or month of the year.