Democratic lawmakers call for gun control in wake of deadly mass shooting in Las Vegas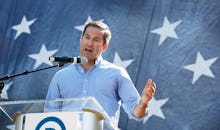 Democrats are swiftly speaking out about the need for gun control in the wake of a mass shooting in Las Vegas that killed at least 58 people and injured 515, saying now is the time for action.
Rep. Seth Moulton (D-Mass.) said he's not participating in moments of silence for the attack because he views them as "an excuse for inaction."
"I will NOT be joining my colleagues in a moment of silence on the House Floor that just becomes an excuse for inaction," Moulton tweeted Monday morning of the shooting — now the deadliest in modern U.S. history.
"Now is not a moment for silence; it's a time for action."
Sen. Chris Murphy (D-Conn.) said Congress needs to "get off its ass and do something" on gun control.
Former Secretary of State Hillary Clinton drew attention to legislation that could come to the House floor this week that would make it easier for people to obtain silencers for their guns.
Democrats' responses to the shooting are much different than that of their Republican colleagues.
House Speaker Paul Ryan issued his condolences and prayers, while Senate Majority Leader Mitch McConnell tweeted out a phone number for those searching for loved ones after the attack — as did a number of other GOP lawmakers.
But perhaps the most notable response is that of President Donald Trump, who issued brief, somber remarks that called for prayers and unity after the attacks.
"In times such as these, I know we are searching for some kind of meaning in the chaos, some kind of light in the darkness," Trump said. "The answers do not come easy. But we can take solace knowing that even the darkest space can be brightened by a single light, and even the most terrible despair can be illuminated by a single ray of hope."
Trump did not label the attack terrorism, nor did he call for any action following the shooting.
That's far different than his predecessor, former President Barack Obama, who often delivered long and emotional speeches calling for gun reforms after the numerous mass shootings during his tenure.
"We can't tolerate this anymore," Obama said after the Sandy Hook shooting. "These tragedies must end. And to end them, we must change. We will be told that the causes of such violence are complex, and that is true. No single law — no set of laws can eliminate evil from the world, or prevent every senseless act of violence in our society."
Obama made a similarly impassioned plea after the 2016 mass shooting at the Pulse nightclub in Orlando, Florida, which until Sunday night was the deadliest shooting in modern U.S. history.
"The shooter was apparently armed with a handgun and a powerful assault rifle. This massacre is therefore a further reminder of how easy it is for someone to get their hands on a weapon that lets them shoot people in a school, or in a house of worship, or a movie theater, or in a nightclub," Obama said after the Orlando attack. "And we have to decide if that's the kind of country we want to be. And to actively do nothing is a decision as well."