Trump calls Las Vegas shooting an "act of pure evil" but doesn't call for action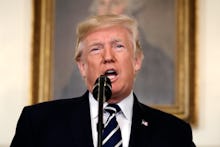 President Donald Trump condemned the mass shooting at a country music concert at Las Vegas, calling the attack "an act of pure evil" in a short, but somber, statement from the White House.
However he did not issue any call to action following the attack, now the deadliest in modern U.S. history, killing at least 58 and injuring 500 more.
"In times such as these, I know we are searching for some kind of meaning in the chaos, some kind of light in the darkness," Trump said, adding he hopes the nation can "find unity and peace."
"Scripture teaches us that the Lord is close to the broken hearted and saves those who are crushed in spirit," Trump added. "We seek comfort in those words."
His tone was markedly different from that of former President Barack Obama, who often called for action in the wake of mass shootings, such as the one at Pulse nightclub in Orlando, Florida, or at Sandy Hook Elementary School in Connecticut.
Following the shooting in Orlando in 2016, at the time the deadliest mass shooting in modern U.S. history, Obama called for action on gun control.
"The shooter was apparently armed with a handgun and a powerful assault rifle. This massacre is therefore a further reminder of how easy it is for someone to get their hands on a weapon that lets them shoot people in a school, or in a house of worship, or a movie theater, or in a nightclub," Obama said after the Orlando shooting. "And we have to decide if that's the kind of country we want to be. And to actively do nothing is a decision as well."
And Obama was noticeably shaken after the Sandy Hook shooting, wiping away tears as he called for action on guns.
"We can't tolerate this anymore," Obama said after Sandy Hook. "These tragedies must end. And to end them, we must change. We will be told that the causes of such violence are complex, and that is true. No single law — no set of laws can eliminate evil from the world, or prevent every senseless act of violence in our society."
Oct. 2, 2017, 12:25 p.m.: This story has been updated.