Facebook and Google's algorithms prioritized fake news in the wake of Las Vegas shooting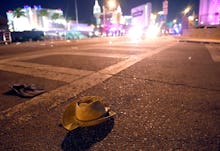 In the wake of a national tragedy like Sunday night's shooting in Las Vegas — the deadliest mass shooting on U.S. soil in modern history — the internet can provide comfort and chaos in equal measure.
After news spread that a lone, white gunman had opened fire on a crowd of people attending a country music festival from his hotel room at the Mandalay Bay Resort and Casino, causing 58 deaths and more than 500 injuries, conservative conspiracy sites like the Gateway Pundit lit up with misinformation about the shooter's identity.
The false reports named Geary Danley, an apparent progressive with a Facebook friend whose name matched that of a woman police had identified as a person of interest in the early hours of the shooting investigation. Police have since correctly identified Stephen Paddock, a 64-year-old from Mesquite, Nevada, who died of a self-inflicted gunshot wound after the incident, as the shooter.
But despite being patently false, write-ups naming Danley as the attacker promptly embedded themselves into Facebook and Google's algorithms.
On Facebook, the Gateway Pundit's article sat among the top results for information on the shooting before it was eventually removed. Google searches for the phrase "Geary Danley" returned a link to a 4chan thread labeling the man a dangerous leftist — a link that sat untouched for hours until the platform's algorithm eventually bumped it.
"Unfortunately, early this morning we were briefly surfacing an inaccurate 4chan website in our Search results for a small number of queries," a Google spokesperson confirmed to Mic. "Within hours, the 4chan story was algorithmically replaced by relevant results. This should not have appeared for any queries, and we'll continue to make algorithmic improvements to prevent this from happening in the future."
Reps for Facebook did not immediately respond to a request for comment.
Criticisms of Silicon Valley's algorithms and the ways in which they shape the way we receive news are nothing new, yet tech giants like Facebook and Google have been slow to implement meaningful changes.
Just days before the horrific events in Las Vegas unfolded, Facebook CEO Mark Zuckerberg used his platform to post a Yom Kippur status apologizing for the site's role in spreading "fake news" and unknowingly selling ads to Russian-controlled accounts that may or may not have sought to influence the outcome of the 2016 presidential election.
"For those I hurt this year, I ask forgiveness and I will try to be better," he wrote. "For the ways my work was used to divide people rather than bring us together, I ask forgiveness and I will work to do better."