Country musician who survived Las Vegas shooting: "We need gun control right now"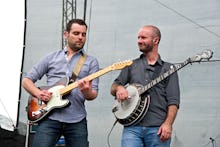 A guitarist in a band that had performed at the country music festival in Las Vegas rocked by the worst mass shooting in modern American history is calling for gun control in the wake of the attack.
"I've been a proponent of the Second Amendment my entire life. Until the events of last night," Caleb Keeter, a guitarist in the Josh Abbott Band, wrote in a message posted on Twitter Monday morning.
Keeter was referencing the mass shooting that left at least 58 dead and more than 500 wounded.
His band had performed on the main stage of the Route 91 Harvest Festival earlier on Sunday, before a gunman opened fire on the crowd.
"We actually have members of our crew with CHL licenses, and legal firearms on the bus," Keeter added, referencing concealed handgun permits. "They were useless."
Keeter described being on their tour bus as shots rained down, saying he wrote his parents and loved ones a goodbye note as the shooting took place.
"We need gun control RIGHT. NOW," Keeter wrote.
"My biggest regret is that I stubbornly didn't realize it until my brothers on the road and myself were threatened by it," Keeter added.