Nancy Pelosi pens open letter to Paul Ryan urging him to take action following Las Vegas massacre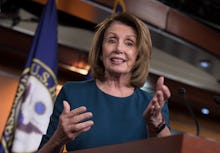 On Monday, following the deadliest mass shooting in modern American history, Democratic House Minority Leader Nancy Pelosi penned an open letter to House Speaker Paul Ryan urging him to take "decisive action" to curb gun violence in America.
"Congress has a moral duty to address this horrific and heartbreaking epidemic [of gun violence]," Pelosi wrote. " Charged with the solemn duty to protect and defend the American people, we must respond to these tragedies with courage, unity and decisive action."
On Sunday night, law enforcement officials say 64-year-old Stephen Paddock opened fire on a country music festival in Las Vegas. The suspect, who has been killed, is said to have killed at least 58 people and injured at least 500 more.
In her letter to Ryan, Pelosi says the Las Vegas' shootings gruesome death tool is only the latest — and most egregious — chapter in the long and bloody story of American violence. In it, she proposes two congressional solutions: passing bipartisan legislation to increase background checks required for gun ownership and creating a bipartisan House committee aimed at curbing gun violence.
"First, Congress must pass the King-Thompson legislation to strengthen the life-saving background checks that keep guns out of the wrong hands," Pelosi said.
She later added: "I urge you to create a Select Committee on Gun Violence to study and report back common sense legislation to help end this crisis."
Pelosi concludes her letter by thanking the House Speaker for his "solemn and swift consideration of this request."
But the minority leader may not get much mileage out of her gratitude: Ryan, who received an A-rating from the National Rifle Association for votes that coincide with its pro-gun rights agenda, has supported measures to decrease the waiting period on gun purchases to 24 hours and to prohibit lawsuits against gun manufacturers and vendors for misuse of the weapons they produce and sell.
Though Ryan's record may give cause for concern to advocates of a legislative solution to curbing gun violence, his comments at a CNN town hall event do leave the door slightly ajar on compromising with Pelosi toward gun control.
"We've got to do a better job to make sure criminals don't get guns, or that people who are suspected of terrorism – like domestic terrorism – don't get guns," Ryan said.
Correction: Oct. 3, 2017