Despite FBI statements to the contrary, reports tying Las Vegas attack to ISIS took off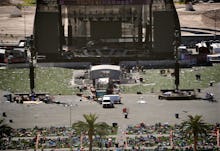 In the aftermath of a deadly mass shooting in Las Vegas that left at least 58 people dead and more than 500 wounded, an unsubstantiated claim made by ISIS that the shooter involved in the attack was affiliated with the terrorist group dominated media coverage — despite the FBI saying it had determined no such link.
The Associated Press was the first to report ISIS had claimed responsibility for the shooting, noting there was no evidence to prove ISIS' claim. Soon after, Aaron Rouse, the special agent in charge of the FBI's Las Vegas field office, refuted the claim and said at a press conference the FBI had found "no connection with an international terrorist group" at that time.
Nonetheless, ISIS' claim was picked up as the lead in headlines across mainstream media outlets: "ISIS claims responsibility for Las Vegas massacre" (The New York Post); "Las Vegas shooting: ISIS claims responsibility for deadliest gun massacre in modern US history" (The Independent); "ISIS claims responsibility for Las Vegas shooting" (Time).
One article from Newsweek — "ISIS claims Las Vegas shooting, says Stephen Paddock converted to Islam" — failed to mention the FBI's denial of the claims until the story's eighth paragraph.
The narrative also took hold in right-leaning and right-wing media, including headlines from right-wing sites TheBlaze and the Washington Examiner. Fox Business Network host Maria Bartiromo also tweeted about the tragedy's supposed link to ISIS, retweeting an article from the Daily Mirror claiming the same thing. (Bartiromo later tweeted that the claims from ISIS appeared "unlikely.")
The right-wing conspiracy theorist Alex Jones also promoted ISIS' assertions in videos released Monday.
Some journalists criticized news outlets for covering ISIS' claims uncritically.
CNN terrorism analyst Paul Cruickshank pointed out that other circumstances surrounding the shooting — especially the fact that the suspect reportedly shot himself before police arrived — made the link to ISIS unlikely.
It wouldn't be the first time ISIS falsely claimed responsibility for such deadly attacks. The organization took credit for an attack at a Philippines casino in July, which police later determined wasn't true. In that case, the shooter had been a gambler who was in debt.