Is Snapchat planning an augmented reality collaboration with the legendary artist Jeff Koons?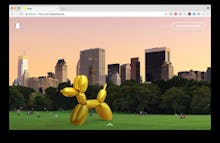 Snapchat's augmented reality train just keeps on rolling. First it was the dancing hot dog, then customized dancing Bitmojis. Now the photo-sharing company appears to be collaborating with artist Jeff Koons for a global 3-D art experience.
Late Monday afternoon, Twitter users noticed a new site had gone up: art.snapchat.com, with a countdown clock ticking toward a big reveal that happened to coincide with CEO Evan Spiegel's appearance at Vanity Fair's New Establishment Summit 2017.
What could the mystery be? Well, luckily for us, Snapchat, you played yourself. Savvy engineer Jonah Grant pointed out that when he changed his Mac's clock settings to a future date, he could unlock what appeared to be Snapchat's announcement.
The page shows images of digital art installations around the world, including places like New York City, Paris and Sydney, Australia. They look like augmented reality figures visible only through the Snapchat app in specific locations.
"Discover Koons' innovative digital installations scattered across the world to experience them for yourself and learn a little more about them," the site reads. (The page is now down.)
Others messed with the site's code to reveal other works of art Snapchat users may find: Koons' famous Balloon Dog and Popeye, for instance.
Snapchat may have flubbed the announcement, or perhaps the team is so clever this is actually a decoy. We'll have to wait and see if Snapchat actually does plan on adding Pokémon Go-like sculptures you'll have to travel the world and discover.