Mic Wakeup: America reels after Las Vegas massacre, the 338th US mass shooting in 2017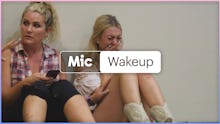 It's Tuesday, Oct. 3. Here are three stories to get your day started.
Death toll continues to rise after gunman opens fire on Las Vegas strip
The death toll of Sunday night's mass shooting on the Las Vegas strip grew to 59, according to authorities. Additionally, more than 500 were injured after a gunman, identified as 64-year-old Stephen Paddock, opened fire from his room on the 32nd floor of Mandalay Bay Resort and Casino, raining bullets down upon a country music festival.
The latest: Authorities have yet to identify a motive for the shooting. Sunday's massacre marks the deadliest mass shooting in modern U.S. history.
In aftermath of shooting, fake and misleading news spread rapidly
Following the rampage, far-right media spread a fake news story blaming a fan of journalist Rachel Maddow for the shooting. The Gateway Pundit originally published the false story, claiming the man was a member of the "anti-Trump army."
The article quickly gained traction and was featured among legitimate news sources at the top of Google's search results for hours before being taken down.
"This should not have appeared for any queries, and we'll continue to make algorithmic improvements to prevent this from happening in the future," a Google representative told Mic in a statement.
It's not just "fake news" sites: ISIS's unsubstantiated claim of responsibility for the attack was widely reported as fact, despite the fact the FBI says there is no evidence of involvement from foreign terror groups.
The debate over gun control is back front and center
Democratic leaders are calling on Congress to finally take action on guns, an all too familiar back and forth in American politics.
"It is positively infuriating that my colleagues in Congress are so afraid of the gun industry that they pretend there aren't public policy responses to this epidemic," Sen. Chris Murphy of Connecticut said in a statement. "There are, and the thoughts and prayers of politicians are cruelly hollow if they are paired with continued legislative indifference."
"It's time for Congress to get off its ass and do something."
What are Republicans saying? White House press secretary Sarah Huckabee Sanders says now is not the time to discuss policy changes. You can read more about where Nevada's members of Congress stand on guns here.