Musicians react to Tom Petty's death: "Bless his powerful spirit"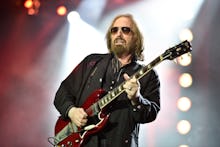 Tom Petty — an American rock legend whose music career spanned well over four decades — was pronounced dead at the University of California, Los Angeles Medical Center on Monday night following an apparent heart attack. He was 66.
TMZ initially reported that the singer and songwriter had been discovered in his California home "unconscious, not breathing and in full cardiac arrest" and that he had been placed on life support with no brain activity.
Tony Dimitriades, the longtime manager of Tom Petty and the Heartbreakers, announced in a statement on Twitter early Tuesday morning that Petty had died peacefully at 8:40 p.m. Pacific, "surrounded by family, his bandmates and friends."
Best known for hits like "I Won't Back Down," "American Girl," and "Free Fallin'," and for his time as the lead vocalist for Tom Petty and the Heartbreakers, Petty was memorialized by the American rock 'n' roll community on Tuesday as one of the all-time greats.
In a statement to Rolling Stone, Bob Dylan called Petty's death "shocking, crushing news" and said that he was "a great performer, full of the light, a friend, and I'll never forget him."
On Twitter, Paul McCartney wrote that he was "sending love to Tom Petty and his family at this difficult time." Several others, including Sheryl Crow, Ryan Adams and rapper Chuck D expressed their sorrow on Twitter.
Petty's music was shaped by the trademark southern twang in his voice, his straightforward songwriting and the larger-than-life spirit he brought to his performances.
"If you're phony, they will feel it in the farthest row of the arena, he told Esquire in 2006. "You have to really care. And you have to make yourself care, time and time again."