3 women with incurable breast cancer are at the center of a stunning new lingerie campaign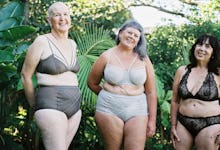 The New Zealand label Lonely Lingerie is doing its part to disrupt the narrative that lingerie ads have to feature sexed-up women in impossible poses. Instead, the brand features women (who are known as "lonely girls") of various sizes, shapes and ages unretouched, with visible stretch marks, body hair and scars.
Many of the women in its campaigns aren't professional models either, but often women with important, moving stories to tell, like Eva McGauley, a 17-year-old diagnosed with terminal cancer who was featured in a Lonely campaign in July.
For the month of October, which is National Breast Cancer Awareness month, Lonely is pulling on our heartstrings again, with a campaign featuring three women with incurable breast cancer — Marian, Maggie and Jo — front and center.
The pictures themselves, which are intimate and downright moving, were taken in association with Sweet Louise, a charity in New Zealand dedicated to providing support and resources to women living with incurable cancer.
"I thought I would be self-conscious and embarrassed on the day, but not at all," Maggie wrote in an email. "I loved the day and I love the lingerie, the sets make me feel special when I wear them. … It is fantastic to have such beautiful pieces that actually fit a larger frame, and an older one!"
"Wearing Lonely felt very feminine and being photographed with all my 'lady lumps' on display felt very liberating," Marian wrote.
Lonely is letting these women have a voice, too. Throughout the month, each woman will be featured on Lonely's website and social media accounts, where they'll be able to reflect on what living with incurable breast cancer has really been like, in their own words. Maggie's up first.
"It is coming up 10 years now since I was diagnosed, and I think about it every day," Maggie wrote. "The day my husband and I were told at best I had a 10% chance of survival was an absolute nightmare. I was and am not ready to give up on that 10%. ... There is too much to do yet, but as I have got older I think it is important to take some time in the week to do something you enjoy without feeling guilty, even if this is only reading a book for 20 minutes, just learn to appreciate what you have."
For Marian, the disease has felt like a gift.
"I tended to take things and people for granted and felt bullet proof. Now I see breast cancer as a gift," Marian wrote. "The reason I feel it's a gift is, unlike sudden death, you have time to right wrongs and put things in order. I'm also grateful it's me and not my daughters."
In addition to these images, Lonely Lingerie teamed up with New Zealand artist Ophelia Mikkelson to do a drawing for a T-shirt benefitting breast cancer awareness. Available for preorder, 100% of proceeds will be donated to the New Zealand Breast Cancer Foundation.
"We want to shine a light on these amazing women who are living with incurable cancer, both to show that we 'see' them — we won't let society render them invisible — and also by way of engaging people in a message that is vitally important to us," Helene Morris, the founder and designer of Lonely, said in an email. "We urge all women to be aware of their breasts from the age of 20, self-checking regularly and visiting their doctor with any concerns. Like many others, breast cancer is something that has personally impacted the Lonely family and is an issue we care deeply about. Awareness and education are critical."
Oct. 3, 2017, 2:18 p.m.: This post has been updated.