ATM fees hit another all-time high. Here's why, and how to avoid them.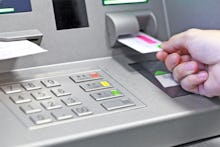 It keeps getting more expensive to use your own money. For the 11th year in a row, out-of-network ATM fees hit a new high, according to the personal finance site Bankrate. In the last decade, ATM fees have risen about 55%, the site found, to a whopping $4.69 a pop.
Out-of-network ATM fees — which usually cut two ways, one charge from your own bank and one from the bank you're using to get cash — rose the most, according to Bankrate's study, climbing 2.6% to $4.69.
Bankrate compiled the data by surveying 10 banks and savings and loans in 25 metropolitan areas and found that fees increased across the surveyed areas. Banks in Pittsburgh charged the most, at $5.19 a pop, versus a low of $4.07 in Dallas.
The deceptively high cost of a seemingly small fee
To be sure, $5 isn't enough to break the bank for most people, but these fees add up. When you factor in everything from penalties to monthly maintenance charges, the average American family spends nearly $300 annually. That's more than enough to sap the typical millennial savings account: About 46% of young people have no savings at all, and another 21% have saved less than $1,000.
The rising fees are somewhat surprising in and of themselves, said Bankrate analyst Greg McBride, since banks are under increasing pressure to offer more consumer-friendly policies from regulators like the Consumer Financial Protection Bureau. Just 38% of non-interest checking accounts are free with no strings attached, half as many as in 2009.
As consumers get savvier about avoiding fees, banks have little choice but to raise others in order to prop up this lucrative cash cow. The three largest consumer banks in the country made about $6.4 billion off of ATM and overdraft fees in 2016, according to a CNN Money analysis — nearly $300 million more than in 2015. That includes fees collected by Wells Fargo, whose recent fake account and student loan scandals cost the No. 3 retail bank tens of millions of dollars in fines and penalties.
Overdraft fees are up too.
The average overdraft fee climbed in 2017 by 1%, to $33.38. That suggests that last year's decline in those fees was an anomaly. "Last year was definitely an anomaly. It was the only year that the average [overdraft] fee did not go up," McBride said. "The big banks, while they're long on convenience, that comes with a tendency to charge higher fees."
The highest overdraft fees in surveyed cities were in Philadelphia, at $35.30 on average. In contrast, the lowest were in San Francisco, at $31.44 on average.
Five ways to avoid annoying bank fees
Luckily, there are a few ways to cut down on ATM and overdraft fees, beside the obvious advice of avoiding out-of-network machines and making use of retailers that allow you to request cash back.
Ask for a fee waiver.
The easiest advice? If you incur these fees sporadically, you may be able to get the bank to waive one simply by asking.
Keep your bank's online app on your phone.
"Monitor your balance before initiating transactions, and do not opt-in to debit and ATM card overdraft protection," McBride said. "You don't want a $5 cup of coffee costing you $40. ... The other thing about that is that if you have a small-dollar transaction that isn't going through, that's also a sign that you're low for other pending transactions."
Withdraw the cash before you need it.
Another way to avoid fees is to is to estimate your cash needs in advance, to minimize impromptu visits to the ATM each month. For example, online bank Ally will reimburse you up to $10 a month in ATM fees, which works out to about three withdrawals per month at no charge.
Get an overdraft line of credit.
If overdrafts are a constant problem for you, then you might consider Capital One's 360 Checking, which NerdWallet wrote "deserves some props" for its accommodative overdraft policy. As opposed to a flat fee, Capital One's account lets you request an overdraft line of credit at about 12.25% annual percentage rate.
Find a better bank.
Finally, consider switching to a bank with low or no overdraft or ATM fees.
Online banks like Chime and Simple will decline a charge instead of slapping you with an overdraft fee. They rely on apps and reminders to keep you from overspending.
Other banks eliminate ATM-fees or reimburse you when an out-of-network machine applies some sort of charge. These include the credit union Alliant; the online banks Aspiration, Bank of the Internet, and Radius, and the brokerage Charles Schwab.
October 5, 2017, 10:30 a.m. Eastern: This story has been updated.
Sign up for the Payoff — your weekly crash course on how to live your best financial life.