One position Trump has been remarkably consistent on is gun control — and he's not in favor of it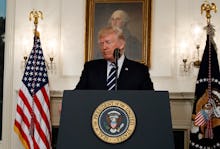 In the wake of the deadliest mass shooting in modern American history, President Donald Trump has called for "unity," condemned shooter Stephen Paddock as a "demented" man and praised the work of first responders — but declined to indicate whether the at least 59 dead (including Paddock) and more than 500 wounded in Las Vegas would move him to act on gun control.
"We'll be talking about gun laws as time goes by," Trump told reporters Tuesday, a day after press secretary Sarah Huckabee Sanders said it would be "premature" for the White House "to discuss policy when we don't fully know all the facts."
It makes sense Trump would be noncommittal on gun control; he received financial support from the powerful gun lobby during the 2016 presidential campaign and vowed to protect gun owners from Hillary Clinton, positioning himself as a staunch supporter of the Second Amendment. He has continued to dismiss the need for gun debate since taking office, most notably after a summer terror attack in London in which the attackers did not use guns.
Indeed, while Trump has expressed often contradictory views on guns over the years — as he has on so many other issues — he has actually remained pretty consistent in his opposition to gun control.
Steady views, outrageous statements
Trump, who has bragged about his own concealed carry permit, has not always been so over-the-top in his pro-gun fervor.
Trump famously backed the 1994 assault weapons ban, which has since expired, as well as longer waiting periods before buying guns, writing in 2000's The America We Deserve that "I generally oppose gun control, but I support the ban on assault weapons and I also support a slightly longer waiting period to purchase a gun."
In that same book, he positioned himself as different from Republicans who "walk the [National Rifle Association] line and refuse even limited restrictions."
But in most of his other public statements on the issue since then, Trump has aggressively opposed those limited restrictions, perhaps best summarizing his stance on weapons in a 2013 tweet.
"The reality is that no gun bill will ever stop tragedies," Trump wrote. "And as we have learned from Obamacare, Washington only makes things worse."
And while he applauded former President Barack Obama's emotional speech following the 2012 mass shooting at Sandy Hook Elementary — in which Obama hinted at a future push for gun reform — Trump has tended not to back off his gun views in the wake of gun-related tragedies. On the contrary, he has frequently doubled down on his opinions, as he did following a mass shooting at the Pulse nightclub in Orlando, Florida, in 2016.
"If some of those wonderful people had guns strapped right here, right to their waist or right to their ankle, and this son of a bitch comes out and starts shooting — and one of the people in that room happened to have it and goes boom, boom, you know what? That would've been a beautiful, beautiful sight, folks," then-candidate Trump said during a speech in Texas just days after the shooting. "That would've been a beautiful, beautiful sight."
Even the NRA found Trump's off-the-wall comments extreme, with the organization's leaders saying his remarks "[defied] common sense."
"No one thinks that people should go into a nightclub drinking and carrying firearms," Chris Cox, executive director of the NRA's Institute for Legislative Action, told ABC's This Week at the time.
That forced Trump to quickly try to walk back his earlier statements, claiming in a tweet he was "obviously" referring to guards rather than club patrons.
Even so, it didn't stop Trump from continuing to make outrageous statements about guns while running as gun owners' best friend. Most notoriously, he seemingly "joked" about calling on supporters to shoot Clinton, whom he repeatedly said "wants to take your Second Amendment rights away" during a campaign speech attacking his rival on gun control.
"If she gets to pick her judges —nothing you can do folks," Trump said at a North Carolina rally. "Although, the Second Amendment people, maybe there is."
Those comments — which came months after he claimed he could "stand in the middle of Fifth Avenue and shoot somebody and I wouldn't lose any voters" — were met with strong blowback from critics, including the Brady Campaign to Prevent Gun Violence, which accused Trump of "using the Second Amendment as cover to encourage people to kill someone with whom they disagree."
"For Trump, violence has become a standard talking point, a common punch line and even a campaign strategy," Dan Gross, president of the Brady Campaign, told the New York Times after the remarks.
Since assuming the presidency, Trump has continued to talk up guns, even name-dropping the NRA recently in his failed attempt to convince Alabama Republicans to back "Big" Luther Strange over Roy Moore in the primary for the state's special Senate election.
In his address to the nation Monday, less than a day after a mass shooting at the scene of a country music concert in Las Vegas, Trump didn't mention guns or gun control. Instead, he called the shooting an "act of pure evil" and called on the United States to find "unity and peace."
Later that day, press secretary Sanders echoed Trump, dismissing questions about gun control by saying, "There's a time and place for a political debate, but now is the time to unite as a country."
For many, though, those "thoughts and prayers" and calls for "unity" didn't go far enough.
"The thoughts and prayers of politicians are cruelly hollow if they are paired with continued legislative indifference," Sen. Chris Murphy (D-Conn.), who became a vocal gun control advocate after the Sandy Hook shooting, said Monday. "It's time for Congress to get off its ass and do something."
Will they get support from the White House if they do? Not likely, Steve Bannon said Monday.
Axios had asked the former chief strategist if there was a possibility Trump would support some kind of gun control measure after Las Vegas.
"Impossible," Bannon texted the publication. "Will be the end of everything."
Oct. 4, 2017, 3:35 p.m.: This story has been updated.